Photo Gallery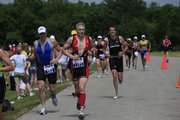 2009 Ironman 70.3 Kansas
Although she technically was the 15th person to cross the finish line, Great Britain's Chrissie Wellington sure made it look like she was the first.
In a sense, she was.
Four hours and 14 minutes after beginning Ironman 70.3 Kansas with a 1.2-mile swim through the waters of Clinton Lake, Wellington crossed the finish line as the top female competitor. Still unbeaten in Ironman events. Still as elated as if it were her first career victory.
It wasn't. Far from it, in fact. But you'd never know that from watching her.
As the two-time Ironman world champion crossed the finish line in 4:14.52, she grabbed the tape, held it high into the air and then let out a cry that would've provoked a cheer in everyone from John Brown to Dorothy Gale.
"I love Kansas," she hollered.
Minutes later, the message that came across the loudspeaker said it all.
"We don't know if she knows just how talented she is," said the public-address announcer, laughing as if infected by Wellington's contagious charisma.
Twenty-five minutes earlier, Australia's Luke Bell became the first triathlete to cross the finish, winning the men's competition in 3:49.35. Bell's reaction, although not as electric as Wellington's, was just as sincere.
As he approached the finish a little more than a minute ahead of Tim O'Donnell, of Boulder, Colo., Bell waved to supporters and clapped his hands high above his head.
The good vibes didn't stop there. Not for Bell. Not for Wellington, either.
As Bell hung around the scene awhile longer, accepting congratulations when offered and handing out handshakes and hugs when warranted, Wellington stayed close to the finish. Not to bask in the glow of what has become a routine ending, but to offer support and encouragement to all of those who finished behind her.
"I'm super-happy with my race, and I'm ecstatic with my swim," Wellington said. "This was absolutely fantastic, a phenomenal, phenomenal race."
The onslaught of emotions at the end made it hard to believe what these world-class athletes had endured in the four hours leading up to it.
Start with Wellington.
Although she got off to a great start with a 25-minute swim, she suffered a flat tire during the 56-mile bike ride, the race's second leg. Think it's impressive to watch these athletes finish such grueling events in just a few hours? Try watching them fix flats — "a puncture," as the British Wellington called it — on the fly.
"The girls really pushed me today," Wellington said. "But I got the lead and never looked back."
The one athlete perhaps most responsible for pushing this year's winner was Lawrence's own Pip Taylor. A native of Australia, Taylor recently moved to Lawrence and now calls the city home for six months of the year because of its central location and small-town charm.
Taylor (4:19.42) finished second among female competitors. She essentially knew the race was over when she caught a glimpse of Wellington just after her momentary setback.
"I saw her flat," Taylor said. "I came up to her just as she got it fixed. She's really a step above everyone on the bike. You keep going because you never want to give in. But all you can do is your best."
Most of the elite athletes agreed that the bike portion of the event was by far the most challenging part. The reasons why were many.
"There's nothing that steep or that long," Taylor said. "But it's up or down most of the way."
Added Bell: "It was a tough day out there. It got pretty windy on the bike."
For a while, it looked as though the wind would be too much for Bell to overcome. At the midway point of the race, he trailed O'Donnell by 1:10. Even Bell himself doubted his ability to catch the leader.
But eventually, right around the 11th mile of the run, Bell found an extra gear and nearly sprinted for about a mile to take control of the race.
"The boys went out way too fast for me at the start," Bell said. "But the gap slowly came back to me, and when the gap gets closer, you just roll with it. The surge really helped. I took out a big chunk really quickly."
From there, Bell cruised to the finish, with O'Donnell fighting with all he had to finish a minute behind him.
"I ran one of these in Connecticut last week," O'Donnell said. "And I started feeling Connecticut in my legs those last three miles."
Nearly 2,000 athletes competed in this year's event. The oldest individual to compete was Don Hart, 75, of Edmond, Okla., while a fellow Sooner State triathlete, 18-year-old Caleb White, of Grove, was the youngest individual.
After the disappointment that surrounded last year's event ending early because of inclement weather, many wondered what the bigger, better encore performance of Ironman Kansas would bring. The answer, if not easy to detect based simply on the smiles plastered across the faces at the finish line, came through loud and clear from the world's best.
"It was a very tough, but very fair, course," Bell said. "I must be naive. I actually expected Kansas to be quite flat. But this was a great place and a great event. I spent the last two nights out in downtown Lawrence. It's a great community. We'll be back."
Copyright 2018 The Lawrence Journal-World. All rights reserved. This material may not be published, broadcast, rewritten or redistributed. We strive to uphold our values for every story published.