Photo Gallery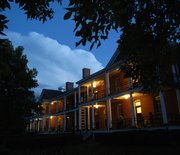 Behind the Lens - Photographer Not Camera
It is the photographer, not the camera, that makes a photograph interesting. Using a portable point-and-shoot camera a photographer can still incorporate a variety of visual techniques to enhance their images.
This week I'll make a detour from exploring visual devices to reiterate a point about photography in general. It is not the camera that makes a good photograph but the photographer. You don't need a professional camera to create successful images. The visual devices I've been exploring can be applied to any camera.
At work I use a professional digital camera with interchangeable lenses. But around the house, on vacation or hanging out with friends, I use a small point-and-shoot. Since I can easily slip it into my pocket, I carry it with me and end up taking more photographs of the people and events in my life.
There are limitations to P&S; cameras, but they should not keep a photographer from being creative.
Here are tips to recognizing and overcoming two P&S; camera limitations:
l Shutter lag. A big complaint about P&S; cameras is the length of time between pressing the shutter and capturing the photo. Most cameras allow you to press partway down on the shutter button to lock focus. When the moment does happen, you complete pressing the shutter. This can increase your reaction time and help you capture decisive moments.
l Image quality: Pro cameras have large sensors for better-quality digital images. To get the best from smaller cameras, set film speeds or ISO to 200 or less and choose the highest resolution setting your camera offers. Higher-resolution images require more space on your memory cards, but a 1-gigabyte card can cost as little as $15 and hold 220-10mp images.
Visit this column online for a gallery of photos taken with smaller P&S; cameras that incorporate visual techniques discussed in previous columns.
Copyright 2018 The Lawrence Journal-World. All rights reserved. This material may not be published, broadcast, rewritten or redistributed. We strive to uphold our values for every story published.