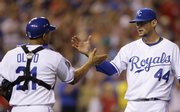 Kansas City, Mo. — The Royals needed something, anything to break their five-week funk.
Luke Hochevar provided at least a short-term lift with the kind of blink-and-you-might-miss-it performance Kansas City has been expecting since taking the lanky right-hander with the first overall pick of the 2006 draft.
Hochevar breezed through a three-hitter in a crisp 80 pitches for his first career complete game, and Alberto Callaspo hit a two-run homer, helping the Royals return home from a miserable road trip to beat the Cincinnati Reds, 4-1, Friday night.
"He was extremely efficient, obviously," Royals manager Trey Hillman said.
Kansas City needed it.
The Royals went 2-7 on their road trip and had lost 23 of 30 overall, in dire need of something positive in their first game at Kauffman Stadium this month.
Hochevar (2-2) did his part, becoming just the fifth pitcher since 2000 — Colorado's Aaron Cook did it twice — to get through nine innings in 80 pitches or less. There wasn't much offense (six hits), but homers by Callaspo and Billy Butler were enough to beat Reds starter Matt Maloney (0-1) in his second career start.
The defense?
Solid for one of the few times this season.
Those 32,959 fans who greeted the Royals in their return ended up with a crisply played game to go with their postgame fireworks show.
"It gets us off to a good start, and hopefully we get rolling and start winning some games back to back," Hochevar said.
Cincinnati got away with hitting .190 in three games against Washington, coming a bad throw away from pulling off a road sweep.
The Reds weren't so fortunate this time, allowing Hochevar to work quickly, swinging at the pitches he wanted them to.
Jonny Gomes hit his first homer since July 23 with Tampa Bay and also doubled, but Brandon Phillips' single in the fourth was the Reds' only other hit off Hochevar.
Copyright 2018 The Associated Press. All rights reserved. This material may not be published, broadcast, rewritten or redistributed. We strive to uphold our values for every story published.