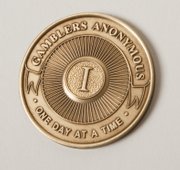 Lawrence Gamblers Anonymous Meetings
When:7 p.m. Fridays
Where: First Christian Church, 1000 Ky.
-->
-->
Larry can tell you the exact moment he knew he had a gambling problem.
He was driving home from a casino at 3 a.m. He'd lost all his money after spending 12 hours there.
Larry had gambled for years, spent thousands of dollars, and experienced financial, marital and health problems. On the way out of the casino, a sign advertised a hot line for gamblers who thought they had problem. Larry called the number the next morning.
Now, Larry attends and runs weekly meetings of Gamblers Anonymous in Lawrence, which is celebrating its second anniversary this month. Larry started the local meetings after realizing the group hadn't met for several years and the closest meeting was in Topeka.
Larry, who asked his full name not be used, started light gambling when a race track opened in Nebraska. When a casino opened near Topeka, he really got into it and initially won a lot of money. He mostly played slots, and when he won he would put the money right back into the machine and add more. It went downhill from there.
"As the years went by, I became more and more compulsive and addicted to this thing," he says. "I would lie and cheat. The money that I had became primarily for gambling, and my other expenses became secondary."
Larry's gambling led to a repossessed vehicle, unpaid rent, distant family and health problems as he neglected his diabetes. He and his wife separated at least twice during his gambling days, but he eventually convinced her to go with him to casinos.
"In effect, the gambling had taken over my life because it was more important than making sure I was healthy," Larry says.
The American Psychiatric Association classifies pathological gambling as an impulse control disorder, along with disorders such as kleptomania and pyromania. In the Diagnostic and Statistical Manual of Mental Disorders, pathological gamblers are described as preoccupied with gambling, unable to stop gambling, returning to gambling after losing and lying to friends and family members about a problem, among other criteria.
Larry's cravings for gambling were just as intense as other addicts' cravings for alcohol or drugs. He says pathological gambling is purely psychological, and sometimes it has dire consequences. In the past three years, Larry has known two people who have committed suicide because of their gambling problems.
Duane Olberding, clinical director at Professional Treatment Services in Lawrence, says pathological gambling is treated the same way as chemical addictions with counseling on anxiety and mood management techniques. Olberding is one of four people certified to treat problem gambling in Douglas County and of 46 statewide. He says gamblers have a high relapse rate, but he's seen many success stories, especially for people who have been referred to Gamblers Anonymous.
Larry says walking through two closed doors into his first Gamblers Anonymous meeting is one of the hardest things he's ever done. He introduced himself and then listened to other gamblers' stories and suggestions for how to manage situations, relieved he didn't have to deal with his problem by himself.
"It felt like it was someplace I needed to be," Larry says.
On Oct. 5, Larry will have been gambling-free for four years, mostly with the help of Gamblers Anonymous, which he says is free and full of people who care about how his week went. When vacations previously had been planned around casino locations, now he and his wife travel to places where there aren't any, such as Nashville, Tenn., and Branson, Mo.
He and his wife are current on their bills, but that happened only within the last year. They've bought a house, he owns a business, and they don't owe anyone money. For entertainment, he spends more time with his family, friends and beagle-border collie mix, and bowls two nights per week in a league.
Larry also has banned himself from casinos in Kansas and neighboring states, which meant going to a casino and putting his name and picture on a list. If he's found on the grounds of these casinos, he will be arrested for trespassing. Despite his successes, Larry says he thinks about gambling every day and must consciously decide not to gamble.
"I know people who were clean for years, had one relapse and were right back in it," Larry says.
In 2007, the Kansas Legislature passed Senate Bill 66, which allows for four state-owned casinos to be built in Kansas as well as allows slot machines in racetracks.
Jean Holthaus, problem gambling services coordinator in Kansas, says decisions still must be made on who will build casinos in Wyandotte, Sumner and Cherokee or Crawford counties, but Boot Hill Casino and Resort is being built in Ford County. She says 2 percent of the casinos' revenue goes into a problem gambling and addiction fund, but for fiscal year 2010, none of the 2 percent from the Ford County casino will go toward problem gambling treatment and instead go toward addiction treatment.
"Not only does it include great riches for the people who win, it also creates great losses for the people who don't," Larry says about the new casinos. "It creates avenues for those people like myself who are compulsive gamblers to continue in their addictions."
In July, Larry is traveling to Las Vegas to bowl in a national tournament and staying in the Stratosphere casino. He's scheduled his flights so he leaves the night before his first game and immediately after his second.
"It's going to be a challenge to be amongst temptations," Larry says.
He's got a plan, though. He's contacting the Las Vegas branch of Gamblers Anonymous so he can have someone to talk to if he wants to gamble. Friends have asked why he just doesn't stay home, but he says he can't.
"I need to challenge my demons," he says.
DO YOU HAVE A GAMBLING PROBLEM?
The Gamblers Anonymous handbook lists these 20 questions for identifying if someone is a compulsive gambler.
1. Did you ever lose time from work or school due to gambling?
2. Has gambling ever made your home life unhappy?
3. Did gambling affect your reputation?
4. Have you ever felt remorse after gambling?
5. Did you ever gamble to get money with which to pay debts or otherwise solve financial difficulties?
6. Did gambling cause a decrease in your ambition or efficiency?
7. After losing did you feel you must return as soon as possible and win back your losses?
8. After a win did you have a strong urge to return and win more?
9. Did you often gamble until your last dollar was gone?
10. Did you ever borrow to finance your gambling?
11. Have you ever sold anything to finance gambling?
12. Were you reluctant to use "gambling money" for normal expenditures?
13. Did gambling make you careless of the welfare of yourself or your family?
14. Did you ever gamble longer than you had planned?
15. Have you ever gambled to escape worry or trouble?
16. Have you ever committed, or considered committing, an illegal act to finance gambling?
17. Did gambling cause you to have difficulty in sleeping?
18. Do arguments, disappointments or frustrations create within you an urge to gamble?
19. Did you ever have an urge to celebrate any good fortune by a few hours of gambling?
20. Have you ever considered self-destruction or suicide as a result of your gambling?
Most compulsive gamblers will answer yes to at least seven of these questions.
Copyright 2018 The Lawrence Journal-World. All rights reserved. This material may not be published, broadcast, rewritten or redistributed. We strive to uphold our values for every story published.