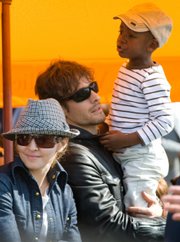 Blantyre, Malawi — There's mercy for Madonna — Malawi's highest court ruled Friday that the pop star can adopt a second child from the African nation, citing her love, determination, and "income tax returns."
In granting Madonna custody of 3-year-old Chifundo "Mercy" James, the court extended the definition of residency and brushed aside concerns by human rights groups that the nation is bending laws meant to protect children in a country where half a million have lost a parent to AIDS.
"I am ecstatic," Madonna said in a statement in which she also thanked the court. "My family and I look forward to sharing our lives with her."
Madonna's lawyer Alan Chinula said the adoption was final with Friday's ruling, although this could not immediately be confirmed. He said he would now arrange a passport for Mercy, which could take several days, and was awaiting word from Madonna on travel plans for the little girl, whose mother died soon after giving birth.
James Kambewa, a man who claims to be Mercy's father — but acknowledges he's never seen her — told CBS News: "I'm crying. I need my baby. I don't know where I can find any help," the network said.
Madonna, 50, adopted a son, David, from Malawi last year. Her request to adopt Mercy was rejected in April by a lower court that said the star had not spent enough time in Malawi.
Chief Justice Lovemore Munlo, reading the three-judge appeal court panel's ruling on Friday, said that was a narrow interpretation based on old laws and that "in this global village a man can have more than one place at which he resides."
He said the singer's commitment to helping disadvantaged children also should have been taken into account in the decision.
Madonna founded a charity, Raising Malawi, here in 2006. It helps feed, educate and provide medical care for some of Malawi's orphans.
The judge said Madonna had shown herself to be "intelligent, compassionate, articulate and determined since the early age of 6 when her mother died," saying the young Madonna had helped raise her siblings.
And he said "her latest income tax returns shows that she is financially stable; she can therefore look after the needs of" the little girl.
The ruling also said the judges saw only two options for Mercy: "either to stay at the orphanage without the love of family and live with the possibility of destitution, or be with Madonna where she is assured of love.
"Every child has the right to love," it said.
Copyright 2018 The Associated Press. All rights reserved. This material may not be published, broadcast, rewritten or redistributed. We strive to uphold our values for every story published.