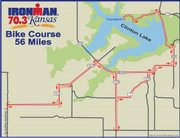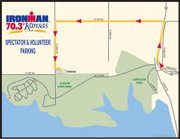 Two sections of road near Clinton Lake will just have to wait a little longer to get sealed with asphalt and gravel.
Ironman — and its more than 2,000 competitors — need to come and go first.
Stretches of Douglas County roads 458 and 1023 will be among those slated for new chip-and-seal surfaces beginning as early as Monday, a day after they are used for the bike portion of Sunday's Ironman 70.3 Kansas.
The delay is strategic, considering that a fresh chip-seal surface would have left traction-robbing gravel and mess-inducing asphalt gumming up the works for athletes straining for their best bike times across 56 already-grueling miles of pavement.
"We're holding off until after the race," said Keith Browning, Douglas County engineer and director of public works. "Turns with loose aggregate and bikes racing is not a good combination."
Two road sections, amounting to less than 5 miles, on the Ironman course are in line for new surfaces:
• County Road 458, from the southern end of the Clinton Lake dam road to County Road 1.
• County Road 1023, from its intersection with County Road 458 to East 300 Road.
The Ironman-friendly delays come after the work originally had been scheduled for this past August, only to be postponed as Mother Nature delivered colder- and wetter-than-normal weather conditions.
Crews could have resumed the work within the past few weeks, but that would have been bad for the Ironman competition, which begins at 7 a.m. Sunday with competitors swimming for 1.2 miles at Clinton Lake, then closing out with a 13.1-mile run at Clinton Lake State Park.
In between, competitors from all 50 states and 13 countries will be riding their bikes for 56 miles beginning at the park, then crossing the Clinton Lake dam. That's when they'll encounter the first of four turns that otherwise would have come on a fresh chip-and-seal coating along County Road 458.
Riders can thank Browning and Vance Brothers, the county's hired road contractor, later for the reprieve.
Chipping-and-sealing work includes spraying goopy, emulsified asphalt on a road to form a seal, then spreading out a thin layer to gravel on top to cover it all up. Such gravel — Browning prefers to call it "aggregate," with each chunk measuring a quarter-inch across — generally sticks to treated asphalt, but often not as speedily as some might hope.
"Fresh chip-seal's really bad for bikes," Browning said. "It needs to have traffic on it for quite a while before it's suitable for bikes — the longer the better. A couple months would be better."
Even a surface that's been properly compacted isn't always ready for speedy, two-wheeled travel within a few months. Loose aggregate often remains on such a road until the chips are blown away or swept aside by passing vehicles, Browning said.
The sections of road slated for resurfacing remain in fine shape for the race, Browning said. The county's road contractor, Vance Brothers, plans to resume work Monday on last year's scheduled work, covering about 25 miles.
Copyright 2018 The Lawrence Journal-World. All rights reserved. This material may not be published, broadcast, rewritten or redistributed. We strive to uphold our values for every story published.