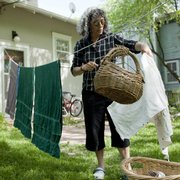 Fifteen years ago, Lawrence resident Randi Hacker published an 82-page book on how to save money and the planet at the same time.
Today — in a world where those two concepts are on the minds of many — her book is seeing a second life.
In the past year, copies have sold out at The Merc and a second printing has occurred.
The message of the book — how to be green beyond recycling — is still relevant, Hacker said.
"We are doing exactly the same things, and we are still not doing exactly the same things," Hacker said. "Nothing has changed at all."
Although some green measures, such as installing solar panels or buying organic, do cost more up front, some of the simplest green steps have the added benefit of costing you less than an energy-consuming alternative.
Here are some tips the author of "How to Live Green, Cheap and Happy" gives:
Reuse
One of the best ways to save money and the Earth is to use items you already have, so you don't have to buy new ones. Hacker reuses plastic containers for pet-food dishes and donates them to art classes to use for holding brushes, paint and clay. She also recycles Carmex lip-balm jars as seed holders and gives them as gifts. One year for Christmas, she gave away scratch pads by stapling together scrap paper.
2. Buy secondhand
If you must buy something, Hacker recommends looking for used items. It's cheap, it's not using new products and no one has to manufacture it. In her book, she recommends buying clothes at thrift stores and kitchen tables at neighborhood yard sales. And, once you make the purchase, Hacker says, use it until it wears out.
3. Barter
While paper currency has its merits, Hacker said that bartering brings both subversive satisfaction and develops community strength. Among the people Hacker quotes in her book is Maggie Sherman, an artist who traded a piece of her artwork in exchange for the doctor's services to deliver her son. Hacker continues to barter. Right now she borrows her neighbor's push mower. In exchange, she gives the neighbor croutons she made from the bread she doesn't finish eating.
4. Grow your own
Planting a garden helps save money and the Earth, Hacker said. While labor-intensive, enough seeds can be purchased for around $20 to keep you eating well into the winter, she writes in her book. As for helping the environment, growing your own food cuts down on the fuel that is needed to transport it and ensures that harmful chemicals aren't being used to grow it. For those getting started, Hacker recommends buying a basic gardening book and starting modestly.
5. Listen to your elders
Although they didn't think of it as being green, many senior citizens lived cheaply during the Great Depression. And their habits just so happened to be earth-friendly. "Just to talk to them on how they got along when they didn't have any money, when they didn't have the resources or the luxuries in a way that we have had, you can learn a lot about how to be green, cheap and happy," Hacker said. Among the tips from elders she has in her book is using nature to your advantage, such as reading by sunlight or freezing things on your porch or windowsill in winter.
6. Get the kids involved
While you listen to your elders, Hacker says to hire youth to do the work. She has hired the young to mow her lawn or take care of her horses when she's away. "They want to make money. But they aren't going to charge you the same thing as other people do and they are very happy to come and work for you," she said. And, it's good for them because it teaches them skills, responsibility and independence.
7. Find an earth gym
Who needs a gym membership when there are plenty of activities to do outside, Hacker said. In her book she passes along workout routines that take advantage of buckets, wheelbarrows, grocery bags, stairs and newspapers.
8. Pull the plug
Whenever she can, Hacker resists the urge to use electricity. That means in the summer cooling off on the porch and sweating, instead of turning on the air conditioner. And, in the winter it entails hanging out wet laundry on a clothesline as opposed to putting them in the dryer.
"Sometimes, we have to think about how it was before we had all these things," she said.
Copyright 2018 The Lawrence Journal-World. All rights reserved. This material may not be published, broadcast, rewritten or redistributed. We strive to uphold our values for every story published.