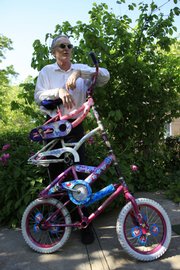 Give Eric Farnsworth a welding kit and some metal, and he can turn just about anything into something.
From a foot-propelled ice cream maker to a lawn-mowing bicycle, Farnsworth has transformed dozens of Lawrence's abandoned bicycles into both practical and artistic creations.
"The way I define a bike is something I can ride to work," he said.
Under that definition, Farnsworth said he's made about 40 bicycles. Including trailers and other constructions, he said he's up to about 60.
Farnsworth started creating bicycles when he bought his first welding kit in 1994. But he said he really started his craft when he was 8 or 9 years old — after his father rejected his requests for a bicycle.
In response, the young Farnsworth acquired an old three-speed and got it in working condition by himself.
Today, Farnsworth is the founder and sole employee of Farnsworth Bicycle Laboratory — the guise under which he turns recycled bicycles into three-wheeled tandems, pedal-propelled wheat grinders, a four-tiered Princess bicycle and even Dennis "Boog" Highberger's Boogmobile.
Although Farnsworth considers bike-making a hobby, he said he had built a few creations upon request, such as the adjustable, bike-powered trailer he made for Joe Bickford.
Bickford said he used the trailer to transport his mower and ferry people throughout town. He said he had used the bicycle for weddings and to carry his wife, Marci Francisco, during parades.
"Eric is a really good guy," Bickford said. "He was really understanding about what my needs were and was willing to work with me to give me something I really like."
Farnsworth said he made bicycles because of his love for melting metal and cutting it apart. All in all, he said, it's a pretty cheap hobby.
"Lawrence is knee-deep in bike parts," he said. "I've never had to worry about having enough stuff."
Aside from recycling bicycles, Farnsworth and his wife, Jean Burgess, recycle, compost and grow some of their own food in a vegetable garden outside Lawrence.
But, he said, riding his bicycle as often as possible is the most effective activity he does to live sustainably.
"There are a lot of really simple things people can do to make their life simpler, easier and cheaper," he said. "And bikes are central to a lot of them."
Copyright 2018 The Lawrence Journal-World. All rights reserved. This material may not be published, broadcast, rewritten or redistributed. We strive to uphold our values for every story published.