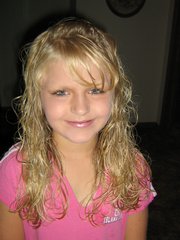 How to help
A Marrowthon will take place from 8 a.m. to 3 p.m. Friday in Lawrence Memorial Hospital's auditorium, 325 Maine.
No fee will be charged for the first 32 prospective donors. The fee will be $25 — about half the normal cost — for everyone else.
There will be an informational area. To get a sample, health professionals will rub the inside of your cheek with a swab. The process should take less than 30 minutes.
If you can't make the Lawrence event, you can sign up online to be on the national registry.
-->
Lawrence resident Lynn Wilson-Bruce was in Kansas City seven years ago when she and her sister heard a plea on the radio.
A nearby hospital was having a bone marrow drive for a baby girl who needed a life-saving transplant.
"Naturally, when I heard a baby was needing help my heart just went out," said Wilson-Bruce, who had lost her own baby girl years earlier.
She and her sister decided to meet after work that day and sign up for the Be The Match Registry, which is operated by the National Marrow Donor Program. Her sister got tied up at work and didn't make it, but Wilson-Bruce signed up anyway.
She filled out some paperwork, gave blood and paid $68. She ended up not being a match for the baby.
Six months later, she received a call. She was a match for a 6-year-old girl.
"I felt like I won the lottery," she said.
She filled out more paperwork and had a physical exam to make sure she was in good health. On Dec. 23, 2003, she donated her bone marrow at St. Luke's Hospital. She was given a general anesthetic and doctors harvested the stem cells from her pelvic bone.
Donors often experience lower back pain after the procedure.
"I was very blessed. I didn't have any pain whatsoever," she said.
Then, she checked the registry to see how her "little bone marrow girl" was doing. She knew very little about the girl until one year later.
Life-saving procedure
That little girl was Shayla Zimmerer, of Plainview, Neb. She had spent most of her life in a hospital while doctors tried to figure out what was wrong with her. She suffered from high fevers, bruising, flu-like symptoms and had trouble breathing. Doctors tried chemotherapy treatments and steroids, but nothing worked.
In October 2003, she was sent to Cincinnati Children's Hospital Medical Center, where she was diagnosed with Combined Variable Immune Disease. She had an immune system that made antibodies that were destroying her. Doctors immediately began looking for a bone marrow donor.
"Right before they transferred her to Ohio, she was very sick," her mother, Jackie Holman, said. "In fact, they didn't know if she was going to live to get there on time."
Luckily, they found a match fairly quickly — about six weeks.
"It was like our prayers had been answered," Holman said.
It took several months before Shayla was stable enough to undergo the transplant.
"It is a great struggle and a very intensive, risk-laden process for these children and adults," said Dr. Joseph McGuirk, medical director of the Blood and Marrow Transplant program at Kansas University Cancer Center. "There are a lot of hidden dangers and lots of complications and it's every bit — if not more — complex than a heart and lung transplant."
Recipients receive high doses of chemotherapy and/or radiation to eliminate whatever bone marrow they have in their bodies. The stem cells, given intravenously, find their way to the bone and start to grow and produce more cells.
Shayla suffered severe headaches, diarrhea and vomiting from chemotherapy.
"It's something that I don't think I could ever go through," Holman said.
After the transplant, she had blood transfusions every day for about two weeks until the cells started working. Three months later, Shayla was strong enough to get out of bed. It was a long, bumpy road to recovery. Shayla and her mom lived in Cincinnati for four years before returning home.
Bright young lady
Now 11, Shayla loves to swim. She is a straight-A student and is taking classes this summer through a gifted student program. She missed only 49 days of school this past year.
"That was really good for her," Holman said. "Her biggest fear is not being able to go to school because she is sick."
Shayla has remained out of the hospital for about two years. She receives an immune globulin intravenously every three weeks.
"She is as close to normal as we could ever hope for," Holman said.
Of course, Shayla and her mother consider Wilson-Bruce a godsend.
"In a way, I kind of consider her Shayla's second mom because she gave Shayla her second life," Holman said.
The two described each other as sisters. They have talked over the phone and exchanged e-mails, but have never met.
In 2005, Wilson-Bruce did meet Shayla. Shayla was in Nebraska visiting her father when she became sick and landed in the hospital. Shayla called Wilson-Bruce to see if she would come visit.
"I walked in the hospital room and she started screaming, 'My bone marrow donor is here,' and then everybody came running to look at me," Wilson-Bruce said. "I just grabbed her and I just held her. It was an incredible feeling."
Lawrence drive
Wilson-Bruce is the driving force behind Lawrence Memorial Hospital's first Marrowthon from 8 a.m. to 3 p.m. Friday.
"You have no idea how hard I've prayed about this and it's finally a reality," Wilson-Bruce said.
She also will get to meet Holman for the first time. Holman and Shayla are coming to Lawrence for the event.
"I am so excited about meeting her, finally," Holman said. "It's going to be a lot of fun. We have so much to talk about."
Copyright 2018 The Lawrence Journal-World. All rights reserved. This material may not be published, broadcast, rewritten or redistributed. We strive to uphold our values for every story published.