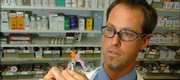 An outbreak of H1N1 Swine Flu was reported in Mexico in April 2009. By the end of May, it had spread across the U.S., with all 50 states reporting cases.
Tonganoxie — The first confirmed H1N1 flu case in Leavenworth County involves a Tonganoxie youth.
The youth is a student in the Tonganoxie School District, assistant superintendent Kyle Hayden said in an email.
On Thursday, the Kansas Department of Health and Environment announced confirmation of the first confirmed case in Leavenworth County involved a child, but gave no other information. There have been 96 confirmed cases of H1N1 flu in Kansas, 57 of which involve children, according to KDHE statistics.
Copyright 2018 The Lawrence Journal-World. All rights reserved. This material may not be published, broadcast, rewritten or redistributed. We strive to uphold our values for every story published.