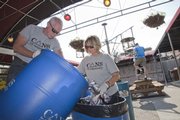 Members of Cans for the Community take turns calling nonprofit organizations around Lawrence.
They take turns because calling them is the best part about their job. It's the part where they get to tell complete strangers that they're going to receive $1,000 to benefit their organizations.
"The other day we gave $1,000 to the New York School book fund, and it was so heartwarming because the principal said they were running out of cash to fund this 'friends and family read together' program and they didn't know where they were going to get the money," said Linda Klinker, chairwoman of the board of directors for Cans for the Community. "So it's really a feel-good thing for us."
Cans for the Community is a nonprofit group that sets up recycling bins for aluminum cans at businesses around Lawrence. Volunteers then collect the cans, recycle them for money and donate all of the proceeds to other nonprofits in town.
New York School became the most recent beneficiary of those proceeds, which went to pay for books that are given away as prizes for the school's reading program.
"We were just at the point where we had to decide, when the books run out what are we going to do?" said Nancy DeGarmo, New York School principal. "It came at just the right time."
Klinker, who has become known to many as The Can Lady, helped organize the group in May 2005. Since then, Cans for the Community has expanded to collect cans from 87 businesses and has donated $39,000. Last year alone, volunteers recycled nearly 31,000 pounds of cans.
"I noticed that there was a great need to help other nonprofits," Klinker said. "We saw the need to recycle, and there weren't any other groups doing it at that time. We really, truly thought this was a win-win situation: Recycle and give it all back."
Cans for the Community organizes about 45 pickups each month from businesses such as Checkers grocery store, Mass Beverage liquor store and Trinity Lutheran Church.
"I started to keep a schedule because we have so many," Klinker said.
Mike Smith, store director for Checkers, said the store has received a lot of positive feedback from the public.
"I think it's a great idea, anything they can do to help out the community," Smith said. "Being locally owned and operated definitely helps that relationship. We try to facilitate all those organizations and we try to maintain that hometown feel."
Cans for the Community has eight board members and about four dedicated volunteers who drive to local businesses and pick up recycling. Klinker said organization was always looking to partner with new businesses and would gladly accept more volunteers.
To become a part of Cans for the Community as a volunteer or recycling partner, e-mail Linda Klinker at thecanlady@msn.com or call 331-6599.
Copyright 2018 The Lawrence Journal-World. All rights reserved. This material may not be published, broadcast, rewritten or redistributed. We strive to uphold our values for every story published.