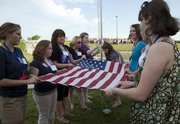 All this week, Kansas University will be the home for city, county and state governments run by 325 incoming high school seniors from all over the state.
The 70th Sunflower Girls State event gives Kansas girls the chance to petition and campaign for offices at three government levels and hold primary and general mock elections.
Girls State is an insider's look at how governments of all sizes operate, and the program aims to influence the young women to build on the lessons they learn and potentially turn their experience into a career.
"I think if we get the girls at this age and they learn the process of government, then it makes them more active in their own communities," said Anne Werner, the director for Sunflower Girls State.
Throughout the week, participants will also hear speakers on topics like political party organization, health issues and even crime scene investigations.
Girls State officials are hoping that girls will stay involved, especially as more women are taking the national stage in politics and government.
"We're at that threshold now where we just have broken the glass ceiling and it's a good time for them to learn about it so they can continue forging the way for us," Werner said.
Two girls from Sunflower Girls State will be chosen to participate in the Girls Nation convention. Activities will wrap up on Friday after the girls visit the State Capitol and Kansas Judicial Center in Topeka.
The program is put on by the American Legion Auxiliary.
Copyright 2018 The Lawrence Journal-World. All rights reserved. This material may not be published, broadcast, rewritten or redistributed. We strive to uphold our values for every story published.