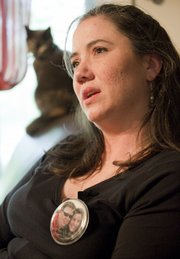 Obtaining designation as a National Cancer Institute is a top priority for Kansas University. Millions of dollars are going toward this goal, which has the potential to save the lives of Kansans.
When Jeff Young received a colon cancer diagnosis at age 28, he was told he had a 10 percent chance of living past five years.
Almost three years later, after undergoing two treatments of chemotherapy and surgery, doctors told him they had exhausted all treatment options. With doctors giving Jeff just a few months to live, the idea of experimental, Phase 1 drugs offered hope.
"They were telling us there is nothing more that can be done, but you hope, you hope there is going to be that trial. There is going to be something out there that they can find that is going to be the one that helps, the one that works on his cancer, the one that maybe someday will cure it," said Jeff's wife, Abby Young.
Last October, Jeff and Abby were set to travel to the MD Anderson Cancer Center in Houston. At the center, Jeff could become eligible for the host of Phase 1 clinical trials available at facilities with National Cancer Institute designations.
But they never made the trip. On the weekend they were scheduled for a lineup of tests, Jeff's health took a turn for the worse, and it looked like he might not make it.
His condition improved somewhat, but Jeff wasn't willing to travel far from home. He might have changed his mind, his wife said, if there was an NCI cancer center closer to home.
Jeff died in February.
"After October, he was like 'friends and family, friends and family. That is what I need to be around,' " Abby said. "Had (the Kansas University Cancer Center) had that designation, it could have perhaps given him the opportunity to do both."
A hole in Midwest
Housed under the federal National Institutes of Health, the National Cancer Institute has designated more than 60 cancer centers across the country as top-tier treatment and research facilities.
One look at a map of where these centers are, and it's clear the middle of the country is lacking. Kansas residents have to travel hundreds of miles to reach one. The closest are in St. Louis, Houston, Denver, Omaha and Iowa City.
KU Cancer Center hopes to change that. The university has named gaining NCI designation as its No. 1 priority.
KU Cancer Center Director Roy Jensen said the focus is to become one of the best cancer centers in the nation, and to do that NCI designation is required.
"About one-third of the time, our current forms of therapy are not being effective. So cancer care is largely driven by clinical trials and the need to improve that number," he said.
A 10-year business plan mapped out by the KU Cancer Center in 2006 estimated that more than $1 billion needed to be spent to achieve NCI status as a comprehensive cancer center. Since 2006, the state has committed $5 million a year to the effort.
In 2006, 5,343 Kansas residents died of cancer. For that year, the state's cancer death rate (193 deaths per 100,000 people) was higher than the national average (187 deaths per 100,000 people), according to data from the Centers for Disease Control and Prevention.
A study from the Kansas Department of Health and Environment found that 10 percent of cancer patients leave the state when seeking care.
Deb Parsons, regional director of health initiatives for the American Cancer Society, acknowledges the hole in the Midwest when it comes to NCI facilities. The American Cancer Society helps match patients with clinical trials opened throughout the country. Clinical trials are an important part in fighting cancer, because they help push new drugs forward, Parson said.
"We have a lot of good ones in the Midwest and in Kansas, but this will enhance and strengthen the level of and type of clinical trials a patient could receive closer to home," Parsons said.
Expanding trials
For Abby Young, who is mourning her husband she describes as the life of the party and the love of her life, having another NCI cancer center couldn't be a bad thing.
Early in Jeff's battle with cancer, the couple made two trips to MD Anderson, drawn by the cancer center's ability to enroll patients in Phase 1 drug trials and its reputation as a research center.
"We thought if there is going to be anything out there that is going to give him an edge or give us additional hope, it is going to be a bigger facility that is going to have a concentration in cancer," Abby said.
At MD Anderson, doctors said Jeff could receive just as good treatment at local facilities and referred the Youngs back to Kansas.
Clinical trials aren't for all cancer patients. Enrollment in them often depends on where the cancer is, how advanced it is and the preferences of the patient, Parsons said.
Across the country, 3 percent to 5 percent of adult cancer patients participate in clinical trials.
At KU Cancer Center, the number is a little higher with about 10 percent of the patients in clinical trials. Over the next few years, the KU Cancer Center is looking at having as many as 15 percent to 20 percent of its patients in them, Jensen said.
KU Cancer Center plans to expand the clinical trials it provides by at least 20 percent to 25 percent. Right now the university has more than 100 clinical trials opened. Those trials would also be offered to health care institutions throughout Kansas that are aligned with the cancer center though the Midwest Cancer Alliance.
A key component to implementing Phase 1 drug trials will be the Johnson County Education Research Triangle building, which is set to open in 2011. Two or three years after it's opened, Jensen hopes to see 350 patients placed in Phase 1 clinical trials.
Jensen sees clinical trials as an opportunity to learn about cancer each time a patient is diagnosed. And while the standard of care might improve by just a few percentage points for each patient, Jensen said, over time the difference adds up.
"Back in 1975, the five-year survival rate for all cancer patients was 50 percent. So now we are up to 66 percent," Jensen said. "Some people say that is not that great, but I have 16 percent of cancer patients who would beg to differ."
Copyright 2018 The Lawrence Journal-World. All rights reserved. This material may not be published, broadcast, rewritten or redistributed. We strive to uphold our values for every story published.