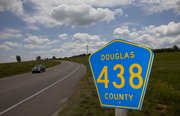 Work to rebuild a 2.26-mile section of the Farmers' Turnpike begins Monday, but the real detour-causing holdups won't arrive for another few weeks.
The section of road formally known as Douglas County Road 438 is getting a $1.63 million overhaul, stretching from its intersection with the South Lawrence Trafficway west to Douglas County Road 1029, which is the curve that leads north toward Lecompton.
Crews led by Perry-based Hamm Construction Inc. will be repaving lanes, adding paved shoulders and making roadside drop-offs more gentle, all with a goal of improving driver comfort and security.
The work also will include cutting tops off hills and filling in dips below, moves designed to improve sight distances for the 4,000 drivers who use the road each day — whether they're passing through or turning in and out of rural driveways along the way.
"It's a huge safety improvement," said Terese Gorman, the county's engineering division manager.
During the past five years, drivers have been involved in 29 accidents along the stretch of road, Gorman said. Eight have caused injuries.
Of the five vehicles that left the road, she said, three overturned.
Such statistics are among the main reasons the county sought to overhaul the road, Gorman said. Adding paved, 8-foot-wide shoulders and extending roadside slopes should go a long way toward reducing the chances of injuries.
The improvements also should help prevent accidents in the first place, Gorman said, which would be good news for all.
"Those accidents can be pretty severe, especially at 55 miles per hour," she said.
To get such safety upgrades, though, drivers and nearby residents will need to sacrifice some convenience.
Beginning Monday, crews will start extending box culverts that run beneath the road. The work will occur at the side of County Road 438, leaving the Farmers' Turnpike open for traffic.
Drivers may face minor delays as trucks arrive to drop off loads of concrete, Gorman said, but overall traffic effects should be minimal.
That all will be expected to change later this month, when crews are set to close the entire stretch to start reconstruction. The tentative date for closure is June 29.
While access for local traffic will be maintained, all through traffic will be steered onto a detour that uses the South Lawrence Trafficway, U.S. Highway 40 and County Road 1029.
The detour will add about 3.5 miles to the trip.
Officials expect the Farmers' Turnpike to be reopened by Nov. 21, in time for Thanksgiving.
Copyright 2018 The Lawrence Journal-World. All rights reserved. This material may not be published, broadcast, rewritten or redistributed. We strive to uphold our values for every story published.