Photo Gallery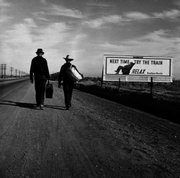 Behind the Lens - Juxtaposition
This collection of photographs demonstrates the use of juxtaposition as a visual device in photography.
I was driving through Lecompton looking for a feature photograph when I spotted a woman mowing her yard. Not usually a scene worthy of a photograph. But in this case, the woman was pulling her mower near a row of riding mowers. The photograph captured the humorous contrast between the subject matter. This is a good example of juxtaposition, a visual device I enjoy and use often.
Capturing a relationship between subjects in a photograph so that each relates to the other doesn't require any technical proficiency. It just takes an alert eye and the recognition of situations where opposites and contradictions, similar and dissimilar subjects can be illuminated. By drawing the readers' attention to juxtaposition you are creating a new perception of a subject or event. I like to think of it as a visual riddle of sorts.
A majority of my humorous photographs have some amount of juxtaposition. But juxtaposition in photographs can convey many different meanings. In one tongue-in-cheek but telling juxtaposition, famous Depression-era photographer Dorothea Lange photographed two men with a suitcase and pack walking down a long, treeless highway. In the frame at right is a big billboard with a picture of a man reclining in a chair and the words, "Next time try the train. Relax." One moment you smile at the incongruity of the image, and on second thought you identify with the plight of rural Americans during that era.
Whether making people smile, attempting a political statement or just creating interesting visual riddles, juxtaposition in photography is a creative communicative device available to all observant photographers.
Copyright 2018 The Lawrence Journal-World. All rights reserved. This material may not be published, broadcast, rewritten or redistributed. We strive to uphold our values for every story published.