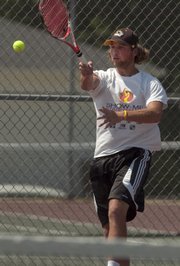 Apparently trying to get every penny's worth of his entrance fee into this weekend's Lawrence Open tennis tournament, Jim Rumsey did his best not to leave the court Saturday.
In his three matches during the tournament's second day — two in singles and one in doubles — the 62-year-old Lawrence attorney played roughly eight and a half hours of tennis, including a 3 hour, 52-minute marathon singles match to open the day at the Lawrence Tennis Center.
"If that were me," said friend and tournament assistant Tom Stutz afterward, "I'd be inclined to be finding some ibuprofen."
Under the unforgiving glow of a summer sun, each of Rumsey's matches Saturday looked particularly grueling.
But none appeared quite as punishing as his first, which kicked off at 8 a.m. and didn't conclude until just before noon on a particularly steamy June afternoon.
Faced with multiple deuce and tie-breaker situations, Rumsey underwent what various onlookers deemed the longest match they remembered taking place at the tournament. A handful of players were halfway through their second matches of the day before Rumsey finally completed his first, edging third-seeded Alan Quirin to advance to the men's 3.5 singles semifinals.
From there, things didn't get much easier for the self-proclaimed "geezer."
He followed his first match with a (barely) less extensive three-hour doubles matchup, and then, after a 15-minute break, managed to take the court a third time, for a 90-minute 3.5 singles semifinals match that ended in a 6-1, 6-2 loss to a significantly younger Huy Ho.
"I don't know how it takes seven hours to play two matches," tournament director Bud Pettit said. "But he's proven to be the Ironman of the day."
While Rumsey was busy amazing onlookers, meanwhile, a number of other division titles were being sorted out. Todd Blackwell defeated Terry Jackson, 6-2, 6-3, in the finals of the men's 4.5 singles, and the doubles team of Martin Johnson and Kevin Allmon beat Kirby Brown and George Morton, 2-6, 7-5, 6-2, to take the men's 4.0 doubles title.
Former tournament winner Jim Stoner was one of a handful of No. 1 seeds to fall Saturday. Stoner, one of the favorites, dropped a semifinal matchup against Keith Pipkin, 6-1, 7-5, in the men's open division.
The tournament's remaining finals will begin at 9 a.m. today.
One of the day's competitors will be Rumsey, who seemed hopeful — if not certain — about his ability to recuperate heading into the tournament's final day.
"Now," said the longtime Lawrence resident, after completing his last match of the day just before 7 p.m., "I'm probably going to go home and have a heart attack."
Copyright 2018 The Lawrence Journal-World. All rights reserved. This material may not be published, broadcast, rewritten or redistributed. We strive to uphold our values for every story published.