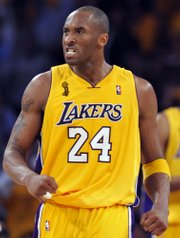 Los Angeles — Magic Johnson had his magnetic smile. Michael Jordan soared to the basket with his tongue hanging out. Kobe Bryant is baring his teeth and scowling in these NBA finals.
His young daughters don't think much of Daddy's attitude around the house, calling him Grumpy, as in the Seven Dwarfs. His media sessions aren't exactly packing in the crowds, either.
Bryant makes no apologies for his no-fun demeanor.
"I just think it's been building," he said Friday. "I've been pacing myself all year waiting for these playoffs to come around. The table is set."
Bryant and Derek Fisher, the Los Angeles Lakers' co-captains, talked on the bench during practice while their teammates enjoyed themselves on the floor.
The Lakers exhaled a day after routing the Orlando Magic, 100-75, in Game 1 of the NBA finals. Game 2 is Sunday at Staples Center.
Even their step back Friday was carefully choreographed, though.
"Today we did feel like it was important to have that space where our guys that are 20 can be 20," Fisher said. "But when we see everybody at 10 o'clock in the morning (today), that space will be closed off and we'll be back to work preparing for Game 2."
Much of Bryant's laser focus is the result of the Lakers losing to Detroit and Boston in their previous finals appearances in 2004 and last year. He detests losing, and at 30, he is more conscious that winning championships is the bedrock in building the legacy of a player who wants to be among the greatest.
"I just want it so bad," he said. "This time around we're just really locked in."
Coach Phil Jackson said that behind closed doors Bryant is just as quiet and focused.
"You have to stay driven and motivated, and I think it's really important that he takes that leadership role for this team," he said.
Bryant joined an exclusive club with 40 points, eight assists and eight rebounds in Game 1. Only Shaquille O'Neal, Jordan and Jerry West before him posted those numbers in a finals game. His points were a career-high in the finals, bettering the 36 he scored against Boston last year.
Of the 46 players scoring at least 40 points in the finals, 26 of them have played for the Lakers. West did it 10 times and O'Neal five, leaving plenty of room for Bryant to catch up.
Orlando coach Stan Van Gundy has seen Bryant's willful side emerge before. He believes it has as much effect on the rest of the Lakers as Bryant's offensive outburst in Game 1.
"When he's playing as well as he did last night, there's really no pressure on anybody else. You shoot the ball freely, you play freely because if you hit a bad stretch, you'll just go back to him and he'll take care of everything," Van Gundy said. "What the great players do to make their teammates better is they take the pressure off of them."
Bryant's clipped responses and nearly permanent poker face emerged early this week in a sure sign that the finals were near. But his grimace and jutting jaw were new for Game 1.
"This is the first year it's been prominent, extremely noticeable," Fisher said.
Not that Bryant's facial expression compares to the famously maniacal look of Jack Nicholson, the Lakers' No. 1 fan, in "The Shining."
"I don't know if anything can compare to that one," Fisher said. "Even for me as a kid that was a pretty scary moment."
Copyright 2018 The Associated Press. All rights reserved. This material may not be published, broadcast, rewritten or redistributed. We strive to uphold our values for every story published.