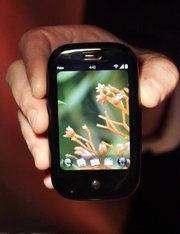 New York — No doubt bolstered by positive reviews, Sprint Nextel Corp. CEO Dan Hesse said today's release of Palm Inc.'s Pre smart phone represents a "coming out party" for Sprint as it seeks to reverse subscriber losses.
The celebration might be cut short, though, if the wireless carrier can't keep up with the high demand it expects for the device.
Sprint, which will carry the Pre exclusively at least through the end of the year, lost 1.25 million of its valuable contracted subscribers during the first three months of the year — even worse than the 1.1 million who fled to other wireless carriers in the fourth quarter.
Hesse said the Pre gives Sprint an opportunity to show off its competitive voice and data networks and service plans — things that could help the company retain subscribers and lure new ones. He said Sprint has "vastly" improved its customer service and network performance.
"We are a very, very different company than we were 12 months ago," Hesse told a group of media, analysts and customers in New York on Friday, a day before the release of the Pre.
The Pre has a touch-screen and slide-out keyboard and will cost $200 with a two-year service plan and rebate. It also sports Palm's new operating system, webOS. Numerous early reviews, including one by The Associated Press, have been positive.
But while the phone may be easy to use, it could be hard to find. At an industry conference last month, Hesse said Sprint would not be heavily advertising the Pre early on because of expected shortages. Hesse said then that the Overland Park, Kan.-based carrier "won't be able to keep up with demand for the device in the early period of time."
In an interview Friday, the president of Sprint's business markets group, Paget Alves, said he believes Sprint will have enough phones to satisfy demand at launch, but that the product will become scarce.
"This is like the Wii for us," he said, referring to Nintendo Co.'s popular gaming console, which faced shortages following its 2006 release.
Alves would not disclose how many Pres will be available today, but he did say fewer will be available at Radio Shack and Best Buy stores than at official Sprint stores.
He also said that more than half a million people registered online either with Palm or Sprint to get information about the Pre's availability and, for existing Sprint customers, to get on a waiting list to buy it when it comes out.
Besides potentially helping Sprint reverse its declines, industry analysts also consider the Pre to be Palm's best hope for fighting back against Research In Motion's BlackBerry and Apple Inc.'s iPhone handsets. Sunnyvale, Calif.-based Palm needs a boost, as sales of its phones fell 42 percent year-over-year to 482,000 in its December-February quarter.
Copyright 2018 The Associated Press. All rights reserved. This material may not be published, broadcast, rewritten or redistributed. We strive to uphold our values for every story published.