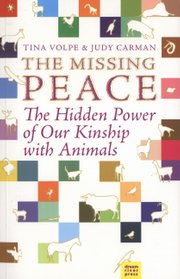 Ever want to know why someone has chosen not to eat meat or animal products? Local author Judy Carman has asked so you don't have to.
Carman's new book (co-author is Tina Volpe), called "The Missing Peace: The Hidden Power of Our Kinship with Animals," compiles interviews with a number of non-meat eaters. These people describe their journeys in eating in a way that is much more in-depth than passing dinner-table conversation.
"Just different people and their stories about spirituality and veganism," says Carman, of Lecompton. "And so that's the first part of it, and then the last part of it we talk about the different famous people who were vegan or vegetarian and how they connected that to their spirituality."
Featured in the book are vegan celebrities, including authors Rory Freedman, Howard Lyman and Will Tuttle.
The book, which became available June 1, is available at the Raven Bookstore, 6 E. Seventh St., and at Amazon.com.
Copyright 2018 The Lawrence Journal-World. All rights reserved. This material may not be published, broadcast, rewritten or redistributed. We strive to uphold our values for every story published.