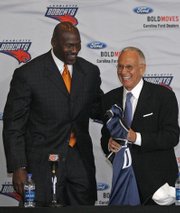 Charlotte, N.C. — Charlotte Bobcats coach Larry Brown would be "nervous" if an ownership change stripped Michael Jordan of his role running the team's basketball operations.
Brown said Friday that he hasn't spoken to majority owner Bob Johnson, who is looking to sell after losing tens of millions of dollars. Jordan owns a minority stake, but Johnson has granted him the final say on basketball personnel decisions.
Jordan, who gave Brown his record ninth NBA head coaching job before last season, said in February that he'd like to someday become majority owner. But Jordan has declined to address Johnson's desire to sell since, and there are questions if Jordan would agree to pay what Johnson wants.
A different owner might force Jordan out of his position or demand he first pay more for a larger stake in the team.
"If Michael is not involved I'd be nervous about that," Brown said after putting six prospects through a draft workout. "I came here because of Michael. He's special and he's great to be around. We need him engaged and involved.
"If he's gone, he's the guy who hired me. I don't know."
Johnson, the founder of Black Entertainment Television and the first black majority owner of a major professional sports team, paid $300 million for the expansion franchise. The team began play in the 2004-05 season and replaced the Hornets, who moved to New Orleans in 2002.
Johnson declined an interview request Friday.
Copyright 2018 The Associated Press. All rights reserved. This material may not be published, broadcast, rewritten or redistributed. We strive to uphold our values for every story published.