The Rev. Jonathon Jensen talks about what he is proud of in his time at Trinity Episcopal Church.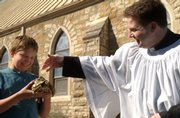 When Onva Boshears was in need, the first thing he did was turn to his favorite priest.
And, boy, was he in need.
His city, New Orleans, was underwater. He had not lost many of his material things, but he'd lost his city and that was much worse than losing furniture and clothing. One of the first voices he heard when the storm cleared was that of his former priest, the Rev. Jonathon Jensen, calling from far-off Lawrence, offering him a place to stay and a shoulder on which to lean.
"In the aftermath of Hurricane Katrina, I was having a very difficult time. And Father Jensen was ... his pastoral ministry to me at that time was just what I needed, it was just so remarkable," Boshears says. "As things evolved, he invited me to consider moving here because I had decided to relocate from New Orleans, and it was a question of returning to Indiana, where I have family, or considering coming here. And so it ended up that I was relocated here.
"His pastoral care had a lot to do with that."
Soon, Boshears will once again be saying good-bye to Jensen's familiar face as the priest is set to leave Trinity Episcopal Church, 1011 Vt., to become the dean and rector of the Trinity Cathedral in Little Rock, Ark. This is Jensen's last Sunday at the church he has called home for seven years.
The calling
Jensen, 38, came to the priesthood by sort of an indirect route — the church wasn't exactly a constant growing up.
"Other than my grandmother, I'm the only person who goes to church in my family," he says. "And then in later high school, early college, I read everything I could and studied everything I could about different forms of Christianity and Buddhism and Islam and Judaism and Shinto and other things, (and) became a religion major and tried all of these different things."
After dabbling in Buddhism for a year, Jensen asked his religious studies instructor at Transylvania University in Lexington, Ky., for his opinion on where he thought he might able to put all this religious energy. The professor suggested the Episcopal Church and Jensen went to his first service on a Sunday in October 1990.
"The first time I was there, I loved it and knew I was home. And never left," Jensen says. "I knew this was what my life was supposed to be, was to be a priest. And it was the right decision then, it's the right decision now. It's a vocation, not a job. Absolutely."
His religious journey took him to the outskirts of Washington, where he attended Virginia Theological Seminary and brought him to somewhere else he was supposed to be in his life: Olsson's Books and Records in Old Town Alexandria, Va. There, on the Feast of the Epiphany, Jan. 6, 1995, he met his wife, Natalie. After talking with her for 10 minutes in the store, he knew he was just as called to her as he was to his upcoming vocation.
"And so I went back to the dorm, the seminary dorm, and announced, 'I've met the woman I'm going to marry,'" Jensen says. "And the quote I remember was in the commons room of the dorm: 'Dude, you're blocking the TV.'"
One of the community
In many ways, Jensen also had just the right feeling about Lawrence.
He came to town after four years as sub-dean in canon at Christ Church Cathedral in New Orleans, looking for a place where he could be the rector — the head priest — and Natalie could pursue coursework in a doctoral program.
"And so it really was the perfect fit," Jensen says. "I wanted to be, preferably, in an older, downtown church, and I came for the interview and before I even saw the church I knew this was where I was supposed to be."
Jensen made it a point to become engaged in the community from the beginning, using daily walks down Massachusetts Street as a way to get to know others beyond Trinity's 500 parishioners. From his walks, he's met non-members he's has both married and buried.
He also helped reach the community through the Trinity Interfaith Food Pantry. During his time, the pantry grew to help more people, including 7,000 last year, says Barry Molineux, the pantry's volunteer coordinator.
Within the church itself, Jensen oversaw the most visual change to the church: The addition of the colonnade and the renovation of the church, which he oversaw from beginning to end.
But it was something slightly less visible, the addition of a Sunday night Solemn High Mass, that really put a stamp on things, says Father Paul McLain, Trinity's curate, or assisting priest.
"The service involves incense, just some beautiful choral music and some of the service is chanted by the priest," says McLain, who will take over the preaching duties until an interim rector is named. "It's just a really beautiful service that many of the KU students and others. We have people who drive in from Kansas City just for this service, so it's been a remarkable outreach to the community and an unusual offering for a service that has so many ancient components in it."
And Jensen is proud that the service has managed to engage the younger set without resorting to the rock n' roll route.
"Lots of churches in Lawrence do contemporary worship and that's wonderful, but this is a 150-year-old downtown church that looks like an old English church and we have a fantastic organ and a wonderful choral tradition and we know what we can do best. And it's not contemporary," Jensen says. "And so we wanted to have this distinct offering."
Personal dimension
Jensen says he may bring a solemn high mass to his new church in Arkansas, which boasts the governor as a parishioner, but he says only time will tell — he wants to do what's right by the congregation.
He says the reason he chose to take the job at in Little Rock was because it was a way for him to go back to his Southern roots while achieving a goal: To be the dean of an Episcopal cathedral.
"I guess everybody has a dream job," says Jensen, who has been a priest for 13 years. "I just imagined ... the most amazing thing to do would be to be the dean of a cathedral and preferably what I knew in the South."
Boshears, who has known Jensen now for more than a decade, has no doubt the people there are lucky to have him.
"He's just an excellent priest and in so many ways," Boshears says. "When I really needed a priest, he was there for me. And I think that's probably been the experience of a lot of others as well."
Copyright 2018 The Lawrence Journal-World. All rights reserved. This material may not be published, broadcast, rewritten or redistributed. We strive to uphold our values for every story published.