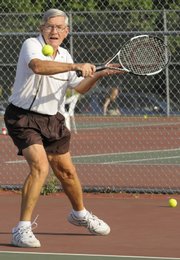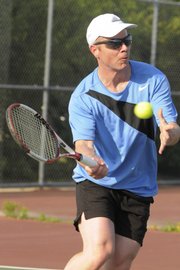 The Lawrence Open tennis tournament kicked off with a touch of nostalgia Friday evening at the Lawrence Tennis Center.
The eight-court complex, which has been home to the tournament for years, is scheduled to be torn down this month as part of an athletic-facilities upgrade currently being carried out at Lawrence High School. The bulldozing could begin as early as Monday, and although a new complex is already under construction just a couple of blocks down the road, longtime users of the courts spoke wistfully about their longtime haven.
"It's a great gathering place for the local tennis community," said Bud Pettit, tournament director for the Lawrence Tennis Association. "That's something people keep saying, 'We're going to lose our place.' But we'll be getting a new place, and hopefully it'll have the same ambiance that this one does."
For more than 35 years, the center has stood as one of the city's prime public tennis facilities, undergoing a number of renovations throughout the years to remain up to snuff.
With the construction of Lawrence High's new football stadium, however, it was decided that the tennis courts, located next to the high school, would be paved to provide what Pettit said would be space for additional parking.
Tom Stutz, a longtime Lawrence resident and part of a 16-member group that spends its Saturday mornings playing doubles at the center, said the local tennis community made sure to have a voice in the school district's decision-making process.
"We've made our presence known," Stutz said. "There was a meeting at the high school on all activities, all the sports in Lawrence. Our whole thing was, 'Hey, don't forget about us.'"
Their requests, apparently, didn't go unheard.
The replacement complex, which is expected to feature the same amenities as the old version, is being constructed near the intersection of Virginia Street and Greever Terrace, and Pettit is hopeful it will be completed within the next month and a half.
In the meantime, local players are enjoying — in the form of the Lawrence Open — what could be the courts' final weekend of existence.
On Friday, Risi Oseni earned the women's 4.0 singles crown after defeating Janet Peard, 6-2, 6-4, and Tina Wilson beat Pamela Konetzni, 6-4, 6-3, to take the women's 3.5 singles title.
Huy Ho (men's 3.5 singles), Loren Matthews (men's 3.5 singles), George Morton (men's 4.0 singles) and Andrew Konetzni (men's open) advanced in their respective divisions, meanwhile, while Karen Winney and Tasha Evatt went 1-0 in the women's 4.0 doubles round-robin.
The tournament is set to resume at 8 a.m. today at the Lawrence Tennis Center and will conclude with finals on Sunday.
Copyright 2018 The Lawrence Journal-World. All rights reserved. This material may not be published, broadcast, rewritten or redistributed. We strive to uphold our values for every story published.