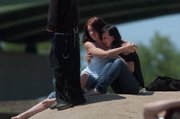 Emergency responders rescued a 14-year-old Lawrence boy from the raging waters of the Kansas River Friday afternoon, after he became trapped under a large log.
The boy nearly drowned and was taken with critical injuries to Lawrence Memorial Hospital, Lawrence-Douglas County Fire Medical Chief Mark Bradford said. He then was flown to a Kansas City area hospital, according to police Sgt. Bill Cory.
Paramedics performed CPR for several minutes after the 20-minute rescue, before loading the boy into an ambulance.
"The officers and firefighters definitely risked their lives for this recovery," Bradford said. "I hope it continues to be a recovery with a positive result."
Firefighters, Douglas County Sheriff's deputies and Lawrence police officers responded about 12:30 p.m. Friday to the spillway east of the Bowersock Dam. The call came in shortly after noon when the boy was clinging to and partially trapped under a log near where the river runs most rapidly past the dam.
Lawrence police later cordoned off the banks of the Kansas River with crime tape, where detectives worked to determine whether the incident was an accident or a crime. Bradford and Cory did not comment on how the teenager got in the water.
"It's too early to say whether it's an accident or not," Cory said shortly after the rescue.
A large crowd watched from the river banks as fire officials moved the tree while holding onto the teenager; they were then able to pull the boy out of the water.
"An extremely scary situation," said Ryan Rofkahr, a former firefighter who witnessed the rescue. "That current's nothing to mess around with."
Several people comforted one another on a pier, directly above where the rescue was taking place. Cory said officers have questioned four people who were with the boy, and the case remains under investigation.
The rescue happened in an area marked with large signs indicating danger, such as one that said: "Extremely hazardous, all access prohibited."
"People don't really understand the force of water and what it will do," Bradford said.
Copyright 2018 The Lawrence Journal-World. All rights reserved. This material may not be published, broadcast, rewritten or redistributed. We strive to uphold our values for every story published.