Photo Gallery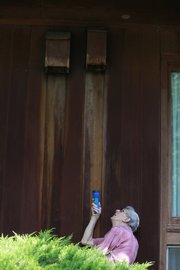 Bats provide mosquito control
You might think it would drive the neighbors batty.
But the hundreds of bats that swarm from beneath the overhang of Bob Blank's central Lawrence home each night actually benefit those living around him, Blank said.
At dusk, the creatures come flitting out of two bat houses he installed on the south side of his home. They dart around the dimming sky and feast on mosquitoes and other insects that humans find annoying during warmer months. Blank said the bats make for pleasant and itch-free evenings for him and his neighbors.
"They do control mosquitoes very well, and we can sit out on our patio in the evening, and don't have any kind of protection, and they never bother us," he said.
Daily procession
During the day, between 150 and 250 of the nocturnal creatures crowd into each small bat house, dangling upside down and dripping guano down the side of Blank's house and into tin pans below. By shining a flashlight into the bottom of the houses, the sight of the large brown bats squirming around is enough to give some the heebie-jeebies.
But those who are accustomed to and knowledgeable about the creatures think nothing of the bats and boast about their many contributions to the natural world — including insect control.
"I'd say they do a lot more good than they do harm," Blank said. "I know of no harm that they do, and they do a lot of good."
The installation of bat houses has grown in popularity as a form of mosquito control, said Ken Kuiper, state biologist for the U.S. Department of Agriculture Natural Resources Conservation Service in Kansas. The houses can be purchased online for as little as $10. A $400 version comes with a camera inside.
"It's becoming more popular, there's no doubt," he said. "People are trying to find ways to attract them."
Bats can consume their entire body weight in insects each night, making them enticing to mosquito-haters, said Dawn Venzina, Organization for Bat Conservation education specialist. The animals also protect gardens by eating insect pests, she said.
Rabies risk
The Lawrence-Douglas County Health Department frowns on people trying to attract the flying mammals.
"The health department does not recommend that people have bat houses, mainly because bats can carry rabies," said Richard Ziesenis, director of environmental health. "Rabies is a lethal disease."
He said the health risk of contracting rabies from bats is much more severe than being bitten by a mosquito. He said the best way to avoid mosquitoes outside is to wear bug spray containing the chemical DEET, and to place special environmentally friendly "doughnuts" — which can be purchased at the hardware store — in any standing water around your home.
Not everyone agrees that bats present a danger.
"Bats contract rabies very infrequently, especially the bats in Kansas," said Kuiper, the state biologist. He said rabies contact is more prevalent around skunks and other animals.
Kuiper said it can be beneficial to have a collection of bats living near your home, but they can be difficult to attract.
Bats can be found in tree bark, caves, cracks in rock ledges, on the edges of stone houses, and in barns, Kuiper said. He even found one napping in a shutter on his house while he was painting.
"They don't actually need our bat houses," he said. "But if a person can get bats, they would be beneficial around a house or a backyard."
Blank said it took five years for his bats to move into their new living quarters. Ever since, between 300 and 500 bats take up residence in his bat houses each year, though the number of bats has gone down this year. They arrive in late February or early March and flee for hibernation in late November or early December.
Adam Wyss and Jamie Sigmon, a couple living in North Lawrence, recently purchased a $10 bat house on eBay, in an attempt to control the large numbers of mosquitoes in their backyard. After about three weeks, they've had no luck.
"Mosquitoes out here are just terrible, whether you're mowing the lawn or gardening, or just anywhere around the house — they eat you alive," Wyss said.
Copyright 2018 The Lawrence Journal-World. All rights reserved. This material may not be published, broadcast, rewritten or redistributed. We strive to uphold our values for every story published.