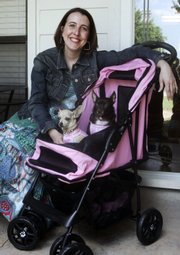 New York — When Melissa Garcia was frustrated by Old Navy's scanty coupon offerings, she didn't just complain to the store. She vented on a message board tied to her blog consumerqueen.com.
Within weeks, chatter in the so-called mommy blogo-sphere led Gap Inc.'s Old Navy to begin issuing coupons several times a week.
Moms have always had marketplace muscle, but a new frugality driven by rising joblessness, housing woes and other economic problems has them exercising it like never before with the help of the Internet.
In this recession, online talk encompasses everything from complaints to advice on coupon clipping, low-budget meals and family finance. But it's not just fellow moms who are following every post: Retailers and consumer product makers are listening, too — and responding.
"We see (moms who blog) as a vital force for our brand strategy," said Gap spokeswoman Louise Callagy.
After picking up chatter on blogs that was advocating layaway purchase plans be restored at its namesake department stores, Sears Holdings Corp. brought them back over the holidays. And Sears' Kmart chain now accepts online coupons and has launched a Web site called Kmart.com/coupons that makes it easier to find specific deals, in response to mother-oriented blogs.
Companies and the bloggers are mutually benefiting. Consumer product companies like home appliance maker Frigidaire and Unilever, maker of Suave shampoo, are hoping to enhance their brands by giving free samples of their merchandise to key women bloggers to test and chat about on their sites, though many bloggers say it's essential to disclose such freebies.
Meanwhile, traffic to blogs written by mothers and devoted to saving money has exploded. Couponmom.com attracted 972,0000 unique visitors in March, five times more than a year earlier, according to Internet research company comScore Media Metrix's latest data.
Last summer, Wal-Mart Stores Inc. created elevenmoms.com on its company Web site that spotlights key women bloggers and pulls together the links to their blogs, including those that focus on frugality like dealseekingmom.com, couponcravings.com, beingfrugal.com and consumerqueen.com.
Copyright 2018 The Associated Press. All rights reserved. This material may not be published, broadcast, rewritten or redistributed. We strive to uphold our values for every story published.