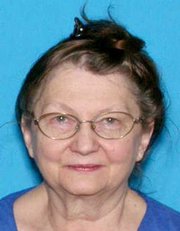 A 71-year-old woman who went missing from Kansas City on Monday was found at a Lawrence restaurant late Tuesday night, police said.
The woman, Cora Pfannenstiel, was possibly suffering from Alzheimer's disease, police said. Lawrence police officers found the woman about 11:40 p.m. Tuesday, at the Lawrence IHOP, 3102 Iowa.
"The manager at IHOP called regarding an elderly woman who seemed disoriented," said Kim Murphree, Lawrence police spokeswoman. "Officers … located the woman outside the building and contacted her son, who came from Kansas City to pick her up."
The woman's family told police she was last seen in Kansas City about 2 p.m. Monday, driving to a Kansas City bank.
"She was returned to her family in good health," Kansas City Police Chief James Corwin said in a post on his Internet blog.
Copyright 2018 The Lawrence Journal-World. All rights reserved. This material may not be published, broadcast, rewritten or redistributed. We strive to uphold our values for every story published.