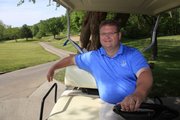 "My elders have taught me so much, and I'm still learning from them," says Darin Pearson, 39, Alvamar Country Club's private golf course superintendent.
He grew up in Williamstown, where his grandparents and parents taught him to play golf.
"Grandmother Hamm drove my brother and me to junior golf events and still jokes she drove us around until we learned to drive and now we forget to drive her to play golf," he says.
After graduating from Perry-Lecompton High School in 1988, he attended Dodge City Community College, played on the golf team and worked part-time at Lake Perry Club. He graduated with an associate degree in art in 1990 and attended Washburn University briefly. But the pull of golf and the outdoors proved too strong. He became full-time assistant superintendent at Lake Perry Club.
"The perfect job for me," he admits. "It combined my passion for golf with love of the outdoors."
He became assistant superintendent at Alvamar's public golf course in 1992 when Dick Stuntz (now Alvamar's president) was head of maintenance.
"Dick became my mentor and taught me so much," Pearson says.
He became the private club's superintendent in 1997. He and his crew take pride in keeping the 18-hole golf course in top condition. Nearly 20,000 golfers use the course annually, so maintaining fairways, roughs, banks, landscaping and greens is crucial. The greens' cool-season grass needs year-round attention, but spring and fall care is essential to ensure the root structure remains deep enough to survive Kansas' hot summers. Controlling water remains the greatest challenge to maintaining perfect greens.
"It's especially important during severe rainy spells like the ones in April and early May," Pearson explains. "There's 12 inches of sand plus a layer of gravel underneath the green to help drain off the water, because too much wet, combined with humidity, increases the chance of the grass becoming diseased. So we need to be vigilant and adapt when necessary."
Vigilance and adaptation of a different sort was needed in April, when the creek overflowed and stranded golfers as they approached the ninth green.
"We drove them up Wakarusa, down Clinton Parkway and back around Crossgate to finish their shots," says Pearson, laughing. "They joked it was the longest hole they'd every played."
In summer, the greens need daily mowing and watering, and pin locations are rotated regularly to distribute wear and tear.
"We treat them gently and hand-syringe them to ensure perfect moisture levels," he explains. "It takes ages to train someone to hand-hose the greens to keep them just right."
He says training someone to precision cut is much easier.
"Once you're familiar with the holes, I can teach you to mow in about two hours," he challenges.
Pearson says Mel Anderson and Bob Billings did a fabulous job creating the course according to USGA specifications.
"Every day I feel honored to be part of the team entrusted to continue their great heritage here at Alvamar," Pearson says.
Copyright 2018 The Lawrence Journal-World. All rights reserved. This material may not be published, broadcast, rewritten or redistributed. We strive to uphold our values for every story published.