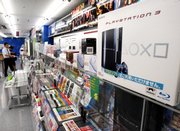 Kathleen Byrnes and Justin Choi, a married couple attending medical school at Tulane University, say $40 is just too much to fork over for a Nintendo Wii game they might not enjoy. They haven't bought one since last fall, when they picked up "Star Wars: The Force Unleashed."
Since then? "Nothing really interesting came out," said Byrnes, 23.
Their reluctance helps explain why this is a rough summer for the video game business. More people than ever are playing the games, but it's been a while since a blockbuster title arrived. Consumers are watching their money more closely in the recession and managing to resist games that can cost as much as $60.
Struggling industry
The trends came into focus Thursday as Sony Corp. and Nintendo Co. each reported console sales are dropping. Sony posted a loss for the April-June quarter, while Nintendo Co. revealed a large drop in its profit.
The Microsoft division that makes the Xbox 360 said last week it lost money in the last quarter too.
"The health of the industry is terrible," said Wedbush Morgan analyst Michael Pachter.
At first, it didn't seem the recession would be big trouble for the video game business, which has managed to expand its audience in recent years and become a mainstream form of entertainment.
Sony, Nintendo and Microsoft, as well as software publishers and retailers, have pitched video games as cheap entertainment. Players can get many more hours in front of a TV screen from a $60 video game than from a $25 DVD.
Cheaper alternatives
But people squeezed by the economy may not have even that to spend. Many have turned to online games that are cheaper or free. Even loyal, "hardcore" gamers are being more selective instead of lining up to buy every new release. Many trade used games among themselves.
Last year's big spring would have made for tough comparisons this year even in normal circumstances. But by industry standards, the first half of 2009 has been unusually slow when it comes to top-flight game launches. Combine that with the recession, and you get one chilly summer.
Byrnes and Choi might spring for the $50 "Wii Sports Resort," a recently launched follow to the "Wii Sports" game that comes with the Wii and buoyed its popularity.
In general, though, they remain cautious. They own seven games for their Wii, and say they were disappointed with about half of them.
"With that kind of a track record," said Choi, who is 25, "we are not about to take more chances on future titles."
Copyright 2018 The Associated Press. All rights reserved. This material may not be published, broadcast, rewritten or redistributed. We strive to uphold our values for every story published.