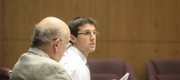 More coverage of the trial of a former Kansas University student accused of beating and kidnapping his ex-girlfriend.
Jaeger Trial Updates, Via Twitter
"I never made her bleed."
"I would never hurt her at all — 100 percent, I would not hurt her."
"I never injured her."
During an interview with police in the early morning of Oct. 10, 2007, Matthew Jaeger, a defendant in a Lawrence kidnapping and aggravated battery case, denied several times that he harmed his ex-girlfriend.
Jaeger told police that the woman, who is now 23, was injured when he found her in the parking lot of her apartment in northern Lawrence.
But prosecutors allege that Jaeger battered his ex-girlfriend, severely mutilated her vagina and pelvic region, and dragged her from her Lawrence apartment after he found her with another man on Oct. 9, 2007.
On Friday afternoon — during the third day of testimony in the trial — jurors watched a video recording that showed the police interview, as well as police taking pictures of blood stains on Jaeger's clothing and hands. Officers arrested him at the end of the interview.
Two versions of events
The victim in the case testified earlier in the trial that Jaeger broke into her apartment, angry because she was with another man.
She said he choked her until she was unconscious, and she woke up with wounds to her vagina and pelvic area. Police later stopped Jaeger's car. Jaeger was in the back seat with the woman, and one of Jaeger's friends was driving.
Jaeger, a former Kansas University student from suburban Chicago, faces charges of aggravated kidnapping, aggravated battery, aggravated burglary and making a criminal threat.
During his interview with police, Jaeger said he was worried the victim was in trouble. He said he tried to knock on her apartment door, but then ran around to the back of the apartment.
He said he saw a man jump from the balcony and run away. Jaeger said when he returned to the parking lot, his ex-girlfriend had come down from her apartment and was "freaking out," so he tried to help her.
His version of events contrasts with testimony from the woman and Dylan Jones, 24, the man who was with her that night.
Jones testified Friday morning that he and the woman heard glass shatter. He testified that the woman told him it was her ex-boyfriend, Jaeger, and that Jones needed to immediately leave.
Jones told jurors that Jaeger threatened to kill him as he hung from the victim's balcony, even chasing him into the woods behind the victim's apartment after he let go.
Jones testified that Jaeger shouted, "Show your face! You're dead!"
"He probably said it 20 times, maybe 25." Jones said. "I was in shock."
But defense attorney Michael Saken accused Jones of making that story up, so as not to look like a coward for leaving the victim's apartment.
"A man hit your lover, and your response was to turn and run away," Saken said.
Jaeger's interview
On Thursday, the victim testified that her relationship with Jaeger was possessive and abusive. She said Jaeger had a history of demonstrating jiu-jitsu moves on her, often putting her in a choke hold and forcing her to have sex with him. She said that after the attack he forced her into a car and refused her pleas for medical attention.
The defense maintains that Jaeger did not hurt the woman but instead tried to help her.
During his interview with police, Jaeger said he went to her apartment because he was worried his ex-girlfriend was in trouble.
"I'm sure if your kid had a problem you wouldn't just be normal," Jaeger told officers during the interview. "You would be like, 'Whoa, I need to get my kid.' There are different sorts of emotions that go along with people's personalities."
During the interview, Jaeger also mentioned to officers that he had trained in jiu-jitsu but said he had recently injured his back and needed to get in shape.
Officers also asked Jaeger if he was trying to "minimize" what happened because he did something he regretted.
"I'm not minimizing anything," Jaeger said. "This is exactly what happened."
Officers also asked him why two witnesses who live at the apartment complex said they saw two men dragging a woman down the stairs against her will.
"People have different perceptions of what happened," Jaeger said.
He also denied knowing who was driving his car that night when police stopped it with him and his ex-girlfriend in the back seat. Prosecutors have said his friend, Evan Carroll, was driving that night.
Lawrence police officer Larry Lindsay took photos of Jaeger shortly before the arrest. The photos show blood stains on his hands, arm, leg and a large stain on the back of his shorts.
At one point in the video, Lindsay said he saw blood on Jaeger's black shirt.
"I just ate a cheeseburger earlier. That might be ketchup," Jaeger said on the video.
Lindsay said officers asked Jaeger about blood on his hands and shorts when they stopped the car.
"I bite my fingernails," Jaeger said, according to Lindsay.
When police left the interview room, the video also shows Jaeger licking and wiping blood off his hands and arms.
Lindsay also said Jaeger never asked police for an ambulance to help the woman. But during the interview, Jaeger said he was trying to take her back to his house to help her so he could be the "hero."
According to the video, Jaeger told officers they had broken up earlier but he still cared for her.
"I wanted to look out for her because we go way back," Jaeger said.
When jurors return to court at 9 a.m. Monday, defense attorneys will cross-examine Lindsay. Chief District Judge Robert Fairchild said it's possible that jury deliberations could begin during the week of Aug. 10.
Copyright 2018 The Lawrence Journal-World. All rights reserved. This material may not be published, broadcast, rewritten or redistributed. We strive to uphold our values for every story published.