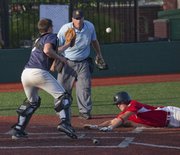 Pittsburg — The Lawrence Raiders made short work of their second-round AAA Legion state baseball tournament opponent.
Now they'll have to see how they'll fare without two of their regulars and their coach.
The Raiders took advantage of 11 walks, scored 10 in the first inning and cruised to a 24-2 rout of Tonganoxie on Thursday at Jaycee Ballpark.
They'll face Manhattan, the tournament's only other undefeated team, in a semifinal today, but they'll do so without first baseman/pitcher Tanner Kilmer, center fielder Matthew Abel and coach Wilson Kilmer.
"I think when the game's going on, I'll be pretty busy," Wilson Kilmer said, referring to preparations for the wedding of older son Olson, for whom Tanner will serve as best man. "I think the rehearsal dinner is about the same time. I don't know that we'll have Internet access where we need to be at, but I'm sure my thoughts will drift a time or two."
Abel, too, will serve as best man for his brother in his wedding, meaning the Raiders will be shorthanded today and Saturday. Only if there is a second championship game, scheduled for Sunday, will Lawrence be back to full strength.
"I wasn't consulted in the whole deal," Wilson Kilmer said with a laugh. "They were trying to get the wedding set for last weekend. But they set the date last fall or something. Obviously, there's no comparison about where I need to be. But I've tried to prepare my assistant coaches for it. I knew this time was coming."
He didn't see Thursday's onslaught coming.
The Raiders (18-23) pounded 18 hits, and best-man-to-be Tanner Kilmer allowed just one earned run over seven full innings.
"Our guys kept their focus well," Wilson Kilmer said. "We weren't swinging crazy or trying to hit home runs. We didn't get sloppy in the field. A lot of times, those games turn into 24-22 games, but we stayed focused, got everybody into the game, got some swings in. We just went ahead and took care of business."
Abel was 5-for-5 with two doubles and two RBIs, Chris Parker went 4-for-5 with two RBIs, and Brian Kindle was 3-for-3 with three doubles and nine RBIs. Coulter Vestal also went 3-for-3 with two RBIs.
"We don't have any grand illusions that's going to happen again," Wilson Kilmer said. "Obviously, you don't score in the 20s very often. But if we have to win 1-nothing tomorrow, we'll do that."
If so, the Kilmers won't be around to see it. In fact, the Raiders could win state and prolong their season as early as Saturday.
That'd be just fine with their coach.
"I told the guys," Wilson Kilmer said, "I'll see 'em Monday at practice."
Copyright 2017 The Lawrence Journal-World. All rights reserved. This material may not be published, broadcast, rewritten or redistributed. We strive to uphold our values for every story published.