On the street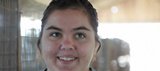 I am looking forward to the new schedule this year. They have changed a couple of things around, and we spiffed up a couple of barns.
-->
The Douglas County Fair officially underway at Douglas County 4-H Fairgrounds, 21st and Harper streets.
The free fair goes until Aug. 8 and is a highlight for county 4-H'ers who compete in projects such as horses, poultry and cooking. The fair will include about 4,500 4-H entries this year.
But, if you think the fair is all about 4-H and animals, think again.
There are a handful of quirky events that are fun for anybody, especially kids.
Horsing around
Sunday's open horse show features a stick horse race, egg-and-spoon race and musical flag competition.
The stick horse race begins around noon for children, ages 6 and younger. Last year, it attracted about 30 participants.
"They do everything that person on a big horse would have to do like walk their horse in a circle, trot their horse and they have to back it up, which is kind of funny because they end up tripping over each other sometimes," said Gretchen Brumm, of Baldwin City, who's been horse show superintendent about five years.
She said the event is fun to watch.
"We've had them lose their boots and horses. We had one of them who didn't want to stay within the cones and just took off across the arena," she said, laughing.
To participate, children must be at the event at least 30 minutes before the contest begins about noon. Stick horses are supplied, but kids can bring their own. Each horse is given a name.
"We've had some pretty funny names," Brumm said. The most common: Blacky, Smokey, Lucky and Flicka.
Riders can sign up for the egg-and-spoon race or musical flags on the day of the event, and the contests take place between 1 p.m. and 3 p.m.
Of course, the idea of the egg-and-spoon race is to see who can ride the longest holding an egg on a spoon without dropping it.
"We always have some really, really good riders who have to be challenged a bit," Brumm said.
Musical flags is similar to musical chairs. When the music starts, riders must go forward and capture a flag that is tied to a long pole.
"It starts off real good and then when it gets down to the last couple of people, we can expect some racers in there," Brumm said.
The open horse show is from 9 a.m. to about 4 p.m., depending on the number of competitors. The show can draw 50 to 100 riders and an arena full of spectators.
What the hay?
Mike Wintermantel, who farms just south of Lawrence, has entered the hay bale throwing contest for about 25 years.
The goal is to throw a square hay bale, which weighs about 50 pounds, the highest onto a platform. The platform is on a forklift, which is gradually raised during the event. There are various age categories, and men and women compete separately.
In 2002, Wintermantel set the fair record with a height of 16 feet. He has been the overall winner a number of times, and that's what kept him coming back.
"I had to keep my record going — I guess," he said.
The contest draws a number of competitors — even some Kansas University athletes. But, Wintermantel said his toughest competitor was a football quarterback from Perry-Lecompton High School, who was smaller than he was.
"There's strength involved, but it's all about knowing how to do it," he said.
A knee surgery has kept Wintermantel, 43, out of the competition for the past couple of years.
This year's competition begins at 6 p.m. Friday, Aug. 7, on the blacktop area. Registration is at 5:30 p.m. and more than $500 in prizes are given out.
Turtle and tractors
There's a trophy with a turtle on it just waiting for the winner of the annual turtle race, which begins at 9 a.m. Saturday, Aug. 8, at the stage area.
Registration begins at 8:30 a.m., and the race is open to any kid who has a turtle or knows someone who will share one. The first turtle to travel from the inner circle to the outer circle wins that heat. There are several heats until a winner is declared.
"The kids get really involved and really cheer on the turtles to win," said Keri Cheek, superintendent of the race.
She said it's fun watching the children trying to coax their turtles to go and travel in the right direction.
"Some turtles just go in circles," she said laughing.
Cheek also is in charge of the popular pedal tractor pull that draws children ages 4 to 12. The goal is to peddle a tractor the farthest distance while pulling a sled with weight being added.
Jessica Stoll's son Daniel Kufahl practices for the contest at home and looks forward to this year's contest, which starts at 1 p.m. Aug. 8. He has qualified for state competition three times.
"He really gets a kick out of it, and bless his heart, even at 6, he's really competitive," his mom said.
Daniel became interested in the pedal tractor pull after seeing his stepfather, Bill Petrie, participate in antique tractor pulls, which are the adult's version.
"He got him hooked on all this," Stoll said, laughing. "It's fun and good exercise."
Unique fair entries
A new duct tape contest has drawn interest from 4-H'ers. The entries need to be a hat, purse, wallet or clothing and made from 90 percent duct tape. They will be judged on workmanship, creativity, appearance and difficulty.
Chris Berg, 17, has made pants, a vest and tie, which took about 10 rolls of tape. He said the project wasn't as easy as he thought it might be.
"I tried to just lay the duct tape on top of the duct tape and it kept on getting stuck and it turned out really bad," he said.
Nine-year-old Max Gottschamer also is entering the contest with a red-and-white shirt with a pocket.
"It was new and it sounded kind of cool, so I just wanted to try it and see what it was like," he said.
His older brother, Nick, 12, said the duct tape project looked like fun and plans to enter something next year.
Since January, the brothers have worked on making robots to enter at the fair. The robots are programmed to go through a maze and are made of white plastic, wires, and peanut butter lids and run on eight batteries.
"I was very impressed with myself," Nick said of his accomplishment. Now, he just hopes the judge is as impressed.
The robots and duct tape entries will be on display in the Dreher Building.
Barnyard Olympics
Teams will compete against one another in activities such as a cow-patty toss, wheelbarrow race and hay bale stacking. The winners split the entry money — $1 per person to enter — and earn bragging rights.
"It's just a great way for city folks and some of us older folks to get a taste of what farm life is like every day, and just have a lot of fun with it," said Kari Wempe, who is a co-superintendent of the new event.
The contest is open to current and past 4-H and FFA members and parents of current members. Teams are made up of four individuals and must have the following: a 4-H'er or FFA member, an adult, a female, and someone under age 10. People can compete on as many teams as they want.
The showdown starts at 1 p.m. Aug. 8 in the judging arena.
"It's at the end of the fair. It's just a great way to blow off a little steam and have a lot of fun and just enjoy the opportunity to compete in a fun way," Wempe said.
Copyright 2018 The Lawrence Journal-World. All rights reserved. This material may not be published, broadcast, rewritten or redistributed. We strive to uphold our values for every story published.