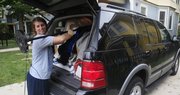 Broken pool tables from parties past, duct-taped armchairs, Tiki torches, and couches handed down from grandparents line the alleys of Lawrence this time of year as many college students make the annual switch to new apartments or homes.
For those moving, it's time to shed unwanted items. For ambitious scavengers, it's a chance to find some interesting stuff. For the Lawrence Public Works Department, it's a lot of extra work.
Movers
The main question for those moving: What to take and what to toss?
Kristin Wark, who graduated from Kansas University in May and is moving to Mission, said she tries to avoid throwing away items on moving day.
"I try to palm it off on my friends," said Wark, who was also able to sell her futon on Craigslist. It's a cycle of recycling she's familiar with, she said, having been the recipient of leftover furniture in previous years.
Recent KU School of Law graduate Ben Sharp is moving to St. Paul, Minn., and he was trying to shed some items before the long trip north. Sharp said he knows people gear up for moving day and are looking for items in good condition.
"I put it on the street," said Sharp of unwanted items. He said the sofa he put on Tennessee Street went quickly.
Scavengers
Lawrence resident Rick Bowman peruses the stuff Sharp and others put on the streets, alleys, or next to a Dumpster, in hopes of finding something valuable or useful.
"I've seen some pretty nice TVs, computers," said Bowman as he checked trash bins in an alley near campus.
But he said he thinks the bad economy is even affecting what people are throwing out.
"This year they're not throwing away as much as usual," said Bowman, who has been browsing the campus area during busy moving times for the past few years.
The great cleanup
Craig Pruett, a field supervisor for the city's Solid Waste Division, said the city's crews will be working for about the next week and a half cleaning up the extra stuff left behind during the moving.
During that time, he said the crews concentrate on student areas, and field supervisors survey local apartment complexes determining whether they need to make an extra stop.
"Our goal is to blanket the town," he said.
Bowman said that the extra work is just part of the job working in a college area, but movers can do things to make their job easier. Bowman suggests leaving large items next to the Dumpsters and neatly organizing and packaging leftover items that won't fit in the trash bins.
Another option, said Linda Lassen, program director at the Penn House, 1035 Pa., is to avoid the Dumpster completely and donate items in good condition to a charity such as hers.
"We do have people in need that'd be happy to get anything," she said, adding that items can be dropped off anytime at their facility. "It's always nice for people to do."
Copyright 2018 The Lawrence Journal-World. All rights reserved. This material may not be published, broadcast, rewritten or redistributed. We strive to uphold our values for every story published.