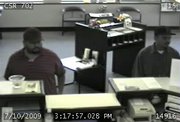 Lawrence police released surveillance photos Wednesday in their search for information about the suspects who broke into a Lawrence business and cashed $8,000 in stolen checks.
"If we find these individuals, we could solve several forgeries and a burglary," said Sgt. Bill Cory, police spokesman.
Police said the checks were stolen during a July 6 break-in at Alpha Roofing, 2736 Ore. The pictures show four men cashing the forged checks between 3:30 p.m. and 4:30 p.m. July 10 at two First State Bank and Trust locations, 609 Vt. and 3901 W. Sixth St., Cory said.
Darin Lutz, owner of Alpha Roofing, said burglars entered his business by prying off panels from a garage door. The crooks passed over expensive tools and instead stole checks from a desk drawer at the business.
"It's been frustrating," Lutz said. "It's a terrible feeling, and we've had to spend a lot of manpower getting things squared away."
Lutz said he's installed a new security system, changed his bank accounts and contacted current and former employees to let them know the suspects may have accessed their private information, which was in the area of the stolen checkbook.
Anyone with information about the suspects should call Crimestoppers at 843-TIPS. Cory said it's possible other burglaries could eventually be connected to them.
"These kind of people need to be taken care of," Lutz said. "They need to understand that they can't get away with stuff like that."
Copyright 2018 The Lawrence Journal-World. All rights reserved. This material may not be published, broadcast, rewritten or redistributed. We strive to uphold our values for every story published.