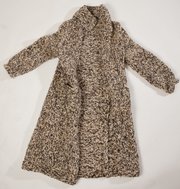 The last week of July leaves me itching to discuss the trend forecast for fall 2009.
With so many end-of-summer sales, it is important to be choosy when making a purchase, regardless how cheap.
Incorporating the upcoming season's trends into current, last-days-of-summer outfits helps transition your wardrobe into a closet full of ready-to-wear items.
Houndstooth
Houndstooth-pattern fabrics often feel too heavy and wintry to don during hot summer days. However, by including this classic pattern/texture in your wardrobe via accessories, such as ballet flats, heels and clutches, you can let loose a bit of fall fashion while still acknowledging the calendar (which reads July). Later, incorporate houndstooth into daily wear, such as peacoats or trousers.
Edgy '80s
Metal spikes, triangular grommets, chains, black leather and all-over zippers are not just for punk rockers. Pair your edgy '80s accessories with flowy, light-colored summer dresses for the ultimate juxtapostion. These items will coordinate easily with fall's ripped-up denim, strong-shouldered jackets and sequined dailywear.
Envelope clutch
Pick up a brilliant accessory, perfect year-round. The easy-open, single-flap, simply designed envelope purse is a great evening piece. I know it sounds nuts, but pick a purse that you can picture using in a different time and place. If you can imagine carrying your new envelope purse on a snowy, wintry evening, not just the current, muggy summer nights, then you have chosen a great, versatile accessory.
Suede
As difficult as it may be even thinking about wearing suede when the temperature is pushing 100 degrees ...
Suede adds texture and definition to your look. Suede purses and headbands can be worn year-round and won't affect your body temperature. Suede peep-toe heels and tassels on jackets or driving gloves give off the attitude of a worldly aviator. Eventually, do look for a short, short suede mini-dress that will pair brilliantly with an oversized jacket on chilly evenings.
Still not enough? Keep your eye out for ...
Big shoulders
Start looking now for your ultimate go-to fall jacket. If you thought shoulder pads were excessive, think again! Look for a jacket with supersize, defined, strong shoulders and unique details — out-of-place zippers, military chains and studs. My fall dream jacket (well, one of them) definitely includes an oversized shoulder and a peplum waist.
Blanket coat
OK, maybe I'm pushing it a bit ... but seriously! You will thank yourself for dragging that hot and heavy thing home early. Blanket coats are easy to find at vintage shops and second-hand stores. Look for an oversized blanket coat with deep pockets, muted patterns (usually a geometric pattern in lighter and darker shades) and fun fabric layers or folds.
Copyright 2018 The Lawrence Journal-World. All rights reserved. This material may not be published, broadcast, rewritten or redistributed. We strive to uphold our values for every story published.