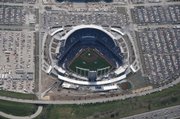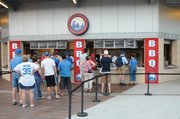 The fries fans order at Kauffman Stadium on game days may actually be healthy — for the environment, that is.
The renovations to the Kansas City Royals' stadium, which included plans to make the stadium more environmentally friendly, are part of a bigger trend in ballparks and athletic facilities around the country, at college and professional levels. Stadiums and arenas are sporting green recycling bins next to trash cans and are using recycled cooking oils for concessions, such as the crispy fries served with hamburgers and other ballpark fare.
To have baseball validate the need to deal with climate change, water conservation and other environmental issues is powerful, says Allen Hershkowitz, a senior scientist and director of the sports greening program at the Natural Resources Defense Council. In 2008, the organization joined with the Major League Baseball to create a leaguewide strategy.
"If baseball could help usher in environmental progress, frankly, I think this is a historic shift in the environmental movement," Hershkowitz says. "It is an historic acknowledgment by what is arguably the most mainstream institution in the U.S. that environmentalism matters."
Some environmental efforts have originated with the clubs. Others are organized by Major League Baseball, which uses events such as the All-Star Game on July 14 in St. Louis to further promote the environmental agenda.
The idea of designing baseball stadiums with environmentally friendly aspects is a recent phenomenon, says Mike Wooley, principal with Kansas City-based Populous, formerly HOK Sport Venue Event, which designed Citi Field and Yankee Stadium and renovated Kauffman Stadium this year.
It's an opportunity to save money and reduce the stadium's impact on the environment, Wooley says.
"A lot of times teams and buildings get criticized because of the tax dollars that have been put into building these facilities over the last 20 years," he says.
Green goals
Bob Rice, vice president for ballpark operations and development at Kauffman Stadium, says the goal with renovations was to be LEED-certified, referring to the Leadership in Energy and Environmental Designs set by the U.S. Green Building Council. Renovations didn't make that goal, but a lot of efforts are being made to make the stadium greener.
"Renovation is the first green statement," he says. "You're not tearing a facility down."
Nationals Park in Washington, D.C., was the first professional sports venue to receive LEED (silver) certification, and other teams such as the Florida Marlins are pursuing that designation with new stadium plans.
But parks that have not sought LEED approval still showcase some of the trends in green buildings, such as the waterless urinals at Citi Field, home to the New York Mets. The urinals, low-flow toilets and faucets are expected to save about 4 million gallons of water annually.
Power, water works
While the Kauffman renovation provided for new restaurants and a wider concourse, smaller changes throughout the stadium are making a big difference with conservation. Green recycling bins are now placed next to blue trash cans, offering options of recycling paper and plastic. Ballpark trash is sorted into plastics, cardboard and paper and then taken to a recycling facility, with the remaining trash compacted so it takes up less room in a landfill. Cooking oil is also recycled, cutting down on waste.
Rice says the stadium's offices also use as much natural light as possible. When lights are needed, they're motion-activated so they turn off when people aren't in the rooms.
"We're not burning power when we don't need it," he says.
The whole park is also on a system that turns off other lights at night when people aren't scheduled to be there, which helps save on the energy bill.
Renovations also worked to conserve water. The stadium's large fountain system uses 300,000 gallons of chemically treated water, but the water is cycled through the fountains. The men's restrooms changed from having continuously running trough restrooms to individual urinals that use less water. And the stadium installed a new irrigation system that helps retain water in the ground.
But some options were just too expensive. Rice says one possibility during renovation was creating a gray water retention system, which collects rainwater for use in watering plants.
"When you look at Kauffman, it looks like a giant bowl," he says.
That system had too high a price tag, though, similar to solar panel options, Rice says.
Solar panels have been installed at a few parks, including Boston's Fenway Park and Jacobs Field in Cleveland. A 15,000-square-foot green roof at Citi Field is expected to retain cool air in the summer and heat in the winter.
Fans can track green efforts by baseball teams at www.greensports.org/mlb.
KU's contributions
Kansas University has implemented many green measures in its sports facilities as well, notably with the green roof in its football complex, completed in July 2008. Allen Fieldhouse is currently being renovated, and KU Athletics spokesman Jim Marchiony says sustainability is on the forefront of everyone's minds.
"As time goes on, sustainability will become more of an issue for anybody constructing new buildings," he says.
And it was an issue when building the football complex. Plans put part of the weight room of the Anderson Family Football Complex underground, which is about 8,500square feet of space. The roof of the underground portion is grass, which helps Campanile Hill keep its scenic look. Having a portion of the building underground also cuts down on the heating and cooling bills, says Bill Dickerson, associate athletics director of operations.
"That saves thousands of dollars in energy," Marchiony says.
Recyclables were used in other football construction projects, such as the practice fields that were built in addition to the complex and in the upgrade to Kivisto Field in Memorial Stadium. Both use recycled rubber from used athletics shoes.
Brad Nachtigal, associate athletic director of capital projects, says the crews renovating Allen Fieldhouse have been working hard to keep sustainability in mind.
"A renovation that touches three existing buildings is a little bit challenging vs. building a new building from scratch and using LEED-certified supplies," Nachtigal says.
He says when workers take metals out of building, they are recycled, and they're making every effort they can to not fill landfills and Dumpsters.
Similarly to Kauffman stadium, Allen Fieldhouse switched its bathroom facilities to lower-water-volume options, and Dickerson says the university is receiving an energy audit to see how athletics facilities can improve in that area.
Concessions also pose a problem for sustainability because they generate so much trash, but Marchiony says KU Athletics is working with its concession vendor and is introducing new biodegradable popcorn containers this year that will replace the old plastic tubs. And for other recyclables, bins have been placed all over Allen Fieldhouse for fans to use and cut down on waste.
Marchiony says the department discusses how to be more environmentally friendly all the time, in new projects and in existing facilities. But he knows there's always room for improvement.
"Nobody anywhere is going to tell you they can't do better," he says.
— Mother Nature Network/McClatchy Newspapers contributed information to this story.
Copyright 2018 The Lawrence Journal-World. All rights reserved. This material may not be published, broadcast, rewritten or redistributed. We strive to uphold our values for every story published.