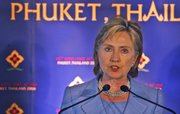 Phuket, Thailand — Hillary Rodham Clinton and North Korea exchanged pointed barbs Thursday, with Clinton declaring North Korea "has no friends left" and the communist regime calling the U.S. secretary of state a "schoolgirl."
The sharp words came as North Korea announced it had refused to re-enter talks to terminate its nuclear weapons program.
Clinton said the world has made it clear to Pyongyang that it has "no place to go," citing near unanimity among Asian nations, including China, on fully enforcing the latest U.N. sanctions against North Korea for its repeated nuclear and missile tests.
Warning the North's nuclear ambitions could spark an arms race in the region, Clinton said the U.S. would continue to vigorously enforce tough U.N. sanctions and insist that the north "irreversibly denuclearize."
But she held out the prospect of restoring U.S. diplomatic ties and other incentives — actions the Obama administration would be willing to consider if the North Koreans dismantle their nuclear program.
"We urge North Korea to return to the six-party talks, look beyond the past and join others in finding the way forward," said Thai Foreign Minister Kasit Piromya, who hosted the ASEAN Regional Forum, a security conference among 27 countries and organizations that ended Thursday.
Clinton, who trumpeted Washington's renewed involvement in Asia during the conference, departed the resort island for Washington, wrapping up a weeklong trip to India and Thailand.
"North Korea's continued pursuit of its nuclear ambitions is sure to elevate tensions on the Korean peninsula and could provoke an arms race in the region," Clinton told a news conference before her departure.
Just moments before she spoke, a spokesman for the North Korean delegation said his government would not return to talks with the U.S., Japan, South Korea, China and Russia, citing the "deep-rooted anti-North Korean policy" of the United States.
"The six-party talks are over," Ri Hung Sik said, calling any proposed U.S. incentives "nonsense."
North Korea's Foreign Ministry, reacting to an earlier Clinton comment likening the regime to "small children" demanding attention, described her Thursday as "a funny lady" who sometimes "looks like a primary schoolgirl and sometimes a pensioner going shopping."
Copyright 2018 The Associated Press. All rights reserved. This material may not be published, broadcast, rewritten or redistributed. We strive to uphold our values for every story published.