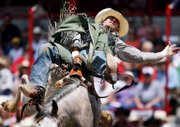 Mesquite, Tex. — A few steps into the air-conditioned Mesquite Rodeo is all it takes to feel the relief. Cool air. Cheap prices. And the stars of the show sitting nearby, ready with a smile and a pen so they can autograph the program given away at the door.
No wonder the vast majority of rodeos are thriving. Even though some sponsors have pulled out and a handful of rodeos have been shuttered this summer, attendance is up about 12 percent for each of the two major circuits, the Pro Rodeo Cowboys Association (PRCA) and Professional Bull Riders (PBR).
Rodeos historically have been up when the economy is down, according to PRCA commissioner Karl Stressman, but this surge is still a pleasant surprise with the recession into its second year.
"We've had a continued growth pattern for the last 20 years, but this year it's phenomenal growth," Stressman said. Added Randy Bernard, CEO of the bull riders' group: "I'm tickled to death with what I'm seeing."
Both men credit several factors, but they agree it begins with vacationers staying closer to home. Those people still need to be entertained and more of them are discovering, or rediscovering, "the greatest show on dirt."
The lure begins with affordable tickets, around $10 at most rodeos, even those with concerts as the nightcap.
Shows are a little more than two hours of fast-paced action, man (and woman) vs. beast. Plus, it's a chance to see real, live cowboys show just how tough they really are.
"People who live in rural areas naturally come to rodeo because it's their sport of choice. To people in urban areas, it's a chance to see a living piece of American history that goes back to the working-ranch days," said Andy Stewart, who spends more than 10 months a year traveling the country as an announcer for Smith Pro Rodeos.
Copyright 2018 The Associated Press. All rights reserved. This material may not be published, broadcast, rewritten or redistributed. We strive to uphold our values for every story published.