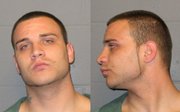 A 21-year-old Lawrence man arrested for punching a person and firing a gun outside a Lawrence restaurant pleaded guilty Wednesday to aggravated assault and battery charges, Douglas County District Attorney Charles Branson's office said.
Stephen Patterson was accused of punching a 21-year-old Kansas University student in the face, pulling a handgun on another person and then firing a round into the air.
The incident occurred April 19 in the drive-through lane of Burrito King, 900 Ill., after Patterson rear-ended a car whose occupants were ordering food, prosecutors said.
Depending on his criminal history, he faces between seven and 23 months in prison and up to six months in jail.
The man also pleaded to a July 2008 possession of cocaine charge, in which he faces between 10 months and two years in prison, prosecutors said.
Sentencing is set for Sept. 3.
Copyright 2018 The Lawrence Journal-World. All rights reserved. This material may not be published, broadcast, rewritten or redistributed. We strive to uphold our values for every story published.