So the story goes, "Steady" Ed Headrick loved disc golf so much he wanted to keep hurling Frisbees from beyond the grave.
Headrick is the guy credited with inventing modern disc golf back in the '60s. He actually created the Frisbee while working at Wham-O!, established the first disc golf course and league, created the chain basket which serves as the "hole," and even trademarked the term "disc golf."
He dedicated his life — and apparently his afterlife — to disc golf. "Steady" Ed's dying request was reportedly that his ashes, following cremation, be mixed in with plastic and molded into "Memorial Discs."
Apocryphal? Urban legend? Surely, no one could actually be so passionate about chucking modified pie plates at something called a "Disc Pole Hole" that they would inject their remains into a Frisbee, right?
"That story is true. I have one of those Frisbees with his ashes in it," says a nonchalant Valarie Jenkins, the world's No. 1 ranked female disc golfer.
Past Event
When: Saturday, July 25, 2009, 9 a.m. to 6 p.m.
Where: Various locations in Kansas City, Mo., and Kansas City, Kan.
Cost: Free
-->
-->
"We still play catch with it. It was always his vision — he just wanted to fly. He was a Frisbee freak. It's a great idea. Disc golf is my life, too. I've done it since I was born," says the native of Hinckley, Ohio. "It will be with me forever. That would be a good way to go out."
Jenkins is hardly alone in sharing the evangelical zeal with "Steady" Ed Headrick that drove him to bond for eternity with disc golf. She and more than 900 converts will make a pilgrimage to Kansas City this week to compete in the 2009 Professional Disc Golf Association World Championships. The tournament's events start Saturday and run through next Saturday for the championships at 12 different courses around Kansas City (see event listing for course locations).
Between them, Kansas City and Lawrence have more than 20 courses, so Eastern Kansas isn't as unlikely a disc golf mecca as you might think. Players from as far away as Japan and Sweden will come here for the highest profile disc golf tournament in the world.
Hot Toss
Last year's world champion, David Feldberg, is hoping to defend his title in Kansas City.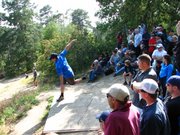 "Kansas City is kind of a special place for me," says Feldberg, who lives in Springfield, Ore. "It's where I got my first national victory."
While Feldberg is in the elite handful of pro players who can actually make a living at disc golf, his first exposure to "frolf" (the term for Frisbee golf popularized by "Seinfeld") wasn't quite as lucrative.
"I was at college in Michigan at Western Michigan University," recalls Feldberg of a fateful wager 12 years ago. "One day, my friends said, 'We're going frolfing.' I was like, 'What's that?' I went with them and I lost. They took me for $6. I practiced for a week, then came back and challenged them. I managed to get $2 back, and now here I am."
That sort of casual entry into the sport is one of the reasons disc golf has been gaining in popularity. It's easy to pick up, but difficult to master.
"You're not going to be winded, but it takes some athletic ability, believe that," says Feldberg, who competes in upwards of 20 tournaments a year.
"Most of the players at the top are college athletes. I played college soccer. It takes speed, power and timing. You have to be able to coordinate your whole body to do only one thing. You have to get to the focus point of an athletic release."
"You can be any shape, size, age, gender — it doesn't really matter," adds Jenkins, herself defending a championship title this year.
"It's all about the form and the technique. My bother's a big, muscular guy and he crushes. But then you'll get a little skinny guy out there and he'll throw it just as far because he has the same technique. It's not all about strength, but the repetition of form. Accuracy is key."
Attorney Kevin Babbit is likely the top player in Lawrence. He's ranked No. 35 in the world, and he's competed in five World Championships.
"The World Championship is highly competitive, but it's as much designed for lovers of disc golf as it is for the professionals. Fun activities are set up surrounding the competition, and there are forums set up to discuss disc golf. It's a gathering of people who care about the sport and want to promote it."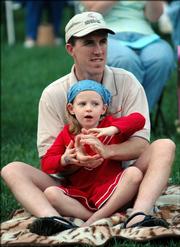 He said there's a sizable group of regular players on Lawrence's three courses—Centennial Park, Riverfront Park, and Clinton State Park (maps to them are here).
"Most of them are students, but there's a smaller group of dedicated people like me. You see everyone from people just wanting to hang out and have a few beers to family outings, with dads dragging their kids out on the field," he says.
"There are some excellent disc golfers in Kansas and I encourage people to try the game. A group of us league players get together every Tuesday night at Centennial Park. If people want to get into the sport, they're more than welcome to join us."
Who's the Toss?
The populist bent of disc golf, inviting anyone to play, has been intrinsic since its inception. The low threshold for participation is often held up as a badge of honor in contrast with the sport's more exclusive older sibling, tauntingly referred to by disc golfers as "ball golf."
"Disc golf started out in public parks for free," says Rick Rothstein, Disc Golf Hall of Famer and proprietor of the Kansas City store Disc Golf World. "Ball golf was a bunch of sons of rich fathers who had a plot of land that they turned into golf courses at the turn of the last century. It started out very elite and grew to the public, rather than the other way around. I have mixed feelings about ball golf. We steal a lot from them so far as structure, but they can't quite shake some of the racist and sexist attitudes."
The distaste is mutual.
"Ball golfers don't respect disc golfers like they should," Feldberg says. "Not all of them, but most of the people who play ball golf think disc golf is a knockoff, like it's a secondary golf and they're the 'real' golf. Golf is just a concept that can be morphed into anything. They're greedy with the concept. Golf could be played with hacky sacks. It doesn't just have to be golf with sticks."
Jenkins says disc golf suffers from larger PR problems.
"I don't think we're represented as well as we could be," she says. "Whenever it comes up, people usually go, 'Oh, you're just a bunch of pot smokers out there whipping around a Frisbee. Hippie!' That's not what we do. We're out there touring, hardcore, every weekend. We're professional athletes and some people just don't get that. Us road warriors are trying to change that whole stereotype."
Attitudes, however, might be changing with time, Feldberg says.
"If you look at the generation coming up below me, they're not as country club-ish," he says. "With the state of the economy, people are looking for more of a middle road. This sport fits better now."
"The downturn has actually been good to us," Rothstein says of the recession-friendly sport. "People can't afford their health clubs and racket clubs or even their ball golf clubs. They're looking for something to keep them active that's challenging. I challenge anyone — I'll challenge you — to find a better recreational value out there. A family of four can come into our store, and we can outfit them with one disc each for $35. There are usually no green fees. If they keep their eye on their disc, they'll have hours and hours of low cost entertainment. It is fun, it is challenging, it is pretty easy to understand, and — of course — it's very inexpensive to play."
Jenkins, who was raised in a disc golf household and has never known a life without it, has a more personal connection with the sport than most.
"Community is the reason why I play," the reigning women's champ says. "Of course, part of it is the competition and playing well, but it's the people that I meet every weekend and the crew I roll with. It's a blast. We're living the life. We're traveling to a new city every weekend. Outside of disc golf, we get to see the city and hang out. It's awesome. We're on tour and palling around. That's the best of it. You can't always be serious and focus on disc golf. We make the most of it, for sure."
Copyright 2018 The Lawrence Journal-World. All rights reserved. This material may not be published, broadcast, rewritten or redistributed. We strive to uphold our values for every story published.