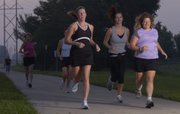 If you're looking for personal training guidance, the EZ8 Running Group can help out.
If you're just looking for running companions, it can help, too.
"There is also a real sense of friendship and community within the group, and many of them continue to run with the women they've met during the program," says Shannon Hodges, a certified running coach who directs the local program.
True to its name, EZ8 is a program that is designed to help women achieve their personal running goal. The next summer session begins Aug. 10 and runs through Oct. 2. Registration, which costs $180, is available at www.runez8.com.
The EZ8 Running camp lasts eight weeks and is aimed at women from every age and fitness range. The camp is designed to help each woman achieve her personal running goal in eight weeks, says Shannon Hodges, a National Exercise and Sports Trainers Association-certified running coach who runs the program.
Hodges first started the EZ8 running camp in May 2007 after becoming a full-time mom to her daughter. She had been a runner for more than 10 years. After getting certified for the EZ8 program and getting the rights to the logo, Hodges says she created the structure of the class herself and customized it for all levels of runners.
"We do a variety of workouts during each session," she says.
Hodges says the group completes challenges, such as running hills, and does drills to increase endurance and stamina. A longer endurance run is scheduled each week as well.
But as the mission of the camp promises, each run is determined by each individual and her level and ability. The group runs are structured so that no one comes in "last," and a 5K race is done as a group at the end of each session.
"I think that women can expect to get a variety of things to come with their experience with EZ8," Hodges notes, including increased confidence in their running abilities.
Lesa Erisman of Lawrence has participated in the program several years.
"I did it the first time after my first child, and now I am doing it again after my second," Erisman says. "It's just awesome."
Copyright 2017 The Lawrence Journal-World. All rights reserved. This material may not be published, broadcast, rewritten or redistributed. We strive to uphold our values for every story published.