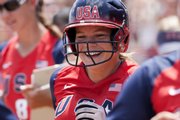 Oklahoma City — The retirement of seven gold-medal winning Olympic veterans hasn't slowed the U.S. softball team one bit.
Ashley Hansen became the latest rookie to come through, hitting a grand slam as the United States completed an undefeated run to the World Cup of Softball championship game with an 8-0 victory over Australia on Sunday.
It was the 19th straight win for a young American squad that features 10 rookies.
"I'm really happy with how we did, but I'm really not that surprised," said Alissa Haber, who also homered and is Hansen's Stanford teammate. "The first day we were at the tryout, they said, 'This is a family. Now you're part of our family.' And I 100 percent see how that works out. Everyone is really coming together really well."
Jennie Finch (2-0), one of the few veterans left, struck out eight and allowed only two singles in her second spotless outing at the World Cup, where U.S. pitchers have yet to allow an earned run.
The game against Australia was called after five innings.
The teams will meet again in the championship game tonight after Australia (3-2), the 2008 Olympic bronze medalist, bounced back to beat Italy 8-0 in five innings.
Golf
Van Pelt wins in playoff
Milwaukee — Bo Van Pelt won for the first time on the PGA Tour with a birdie on the second hole of a sudden-death playoff over John Mallinger at the U.S. Bank Championship.
Van Pelt had two putts to win, leaving a 26-footer short before sinking a two-foot birdie for his first victory in his 229th tour event.
Rhoden holds on to win
Stateline, Nev. — Defending champion Rick Rhoden led all day, but had to hold on at the end to claim a record eighth victory at the American Century Celebrity Golf Championship after rival Dan Quinn's comeback attempt ended with a shot into the pond guarding the 18th hole.
NBA
Grizzlies sign Thabeet
Memphis, Tenn. — First-round draft pick Hasheem Thabeet has signed with the Memphis Grizzlies.
The 7-foot-3 center from Connecticut was the second pick in the draft. Thabeet is due to make about $7.7 million over two years under the rookie salary scale.
Moon signs offer sheet
Cleveland — The Cleveland Cavaliers have signed restricted free agent Jamario Moon to an offer sheet.
Moon spent last season with the Heat, who Sunday confirmed the offer first reported by ESPN.com. Terms were not disclosed.
Baseball
Giants part owner dies
San Francisco — Sue Burns, a part owner of the San Francisco Giants who was close friends with home run king Barry Bonds, has died. She was 58.
Burns died late Saturday night of complications from cancer, team spokesman Jim Moorehead said Sunday. She was diagnosed with the disease July 10 and missed Jonathan Sanchez's no-hitter for the Giants that night — a rare absence from the ballpark.
Padres' Gonzalez in hospital
San Diego — Padres second baseman Edgar Gonzalez remained hospitalized Sunday with dizziness after he was he was hit in the head by a 93 mph pitch Saturday night.
Gonzalez did not have a skull fracture or a concussion but complained of dizziness and ringing in his ears, San Diego manager Bud Black said.
Pirates cut off talks
Pittsburgh — The Pittsburgh Pirates have cut off contract talks with shortstop Jack Wilson and second baseman Freddy Sanchez after the players didn't respond to multiyear offers, increasing the chances the double-play duo will be traded before the season ends.
Twins sign Grudzielanek
Arlington, Texas — Second baseman Mark Grudzielanek signed a minor-league deal with the Minnesota Twins on Sunday, providing a possible veteran presence later in the season.
Auto racing
81-year-old drives in race
Portland, Ore. — Eighty-one-year-old Hershel McGriff became the oldest driver to take part in a national NASCAR series race, finishing 13th in a Camping World West Series event at Portland International Raceway on Sunday.
Jim Inglebright of Fairfield, Calif., won the Bi-Mart Salute to the Troops 125.
Brown edges Schumacher
Kent, Wash. — Antron Brown beat Tony Schumacher by 0.008 seconds to take the Top Fuel final at the NHRA Northwest Nationals at Pacific Raceways on Sunday.
Tim Wilkerson (Funny Car) and Mike Edwards (Pro Stock) were the other winners at the 14th of 24 races in the NHRA Full Throttle Drag Racing Series.
NFL
Favre impresses Childress
Minneapolis — Vikings coach Brad Childress was enjoying his vacation last week when he turned on his television and saw video of Brett Favre throwing to receivers at a high school in Hattiesburg, Miss.
And Childress approved of what he saw, saying Sunday: "I liked his throwing motion, the little bit that I saw on tape. It looked fine to me."
College football
USF player falls
Tampa, Fla. — A University of South Florida football player was recovering at a hospital after falling 35 feet from a gondola ride while working at Busch Gardens in Tampa, team officials said.
Team officials identified the player as Maikon Bonani, 20, USF's starting kicker. The park did not immediately release the employee's name or the extent of his injuries, said spokeswoman Jill Revelle.
The employee was working Saturday at the Skyride attraction. After sending passengers on a gondola out of the station, the employee thought the door might be unlocked and held onto the door to check it while guests sat on the ride, according to a park statement. He held on as the gondola took off — then 35 feet above the ground — let go and dropped into a landscaped area, the statement added.
Copyright 2017 The Associated Press. All rights reserved. This material may not be published, broadcast, rewritten or redistributed. We strive to uphold our values for every story published.