On the street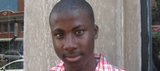 That I am a nice guy.
Forrest Gump famously told a nurse at the bus stop that his mama always told him you could tell a lot about a person by their shoes. These days it seems a better indication is by a person's ringtone.
Steve Spiro, vice president of marketing at ringtone download site Myxer, says that the demand for ringtones is incredible right now. This April, Myxer had more than 50 million downloaded ringtones from their site, up from 15 million in April 2008. Spiro says people can show their devotion to their favorite sports team, band or hobby by personalizing their ringtone.
"It allows the individual to express their personality," Spiro says.
Here is how some Lawrence residents chose their ringtones:
• Ashley Craft, 17, says that she picks ringtones based on hit music. Currently her ringtone plays "Burn it to the Ground" from Nickelback's 2008 album "Dark Horse."
•  Craft's friend Rachel Garrison, 17, says she also picks her ringtones based on current popularity. Garrison says she likes songs that she listens to on the radio, which is why she picked the hit "Swing" by Savage for her ringtone.
• Kara-Michael Smith, 21, turns to her favorite genre of music for her ringtones. Smith says she loves alternative rock, so she has Death Cab For Cutie crooning "Grapevine Fires" to her every time she receives an incoming call.
• Jenny McMillen, 39, says she picks songs that she likes for her main ringtone, such as Taylor Swift's "Our Song." But McMillen's daughter personalized the tone for her phone calls on her mom's phone.
"It's some rap song that I don't know," McMillen says. "I'm a nurse, and the girls at work always laugh when they hear it going off because they know who is calling."
While McMillen let's her daughter personalize her own ringtone, Jamie Skinner, 18, chooses songs with personal meaning for her contact ringtones. The band Hellogoodbye alerts her when her best friend is calling with their song "Here (In Your Arms)."
While music and humor ringtones are growing in popularity, some people opt out of the opportunity to express their personality. Megan Geenens, 20, says she keeps her phone on vibrate. Geenens says she used to have music ringtones but changed it to vibrate one day and decided she liked it, especially while out in public.
"The whole world doesn't need to know that someone is calling me," Geenens says. "Another thing that turns me off about ringtones is that my mom has church music as hers and she has the volume as high as it can be, so when it rings it's so embarrassing."
Spiro, of Myxer, says he sees more and more people going for funny or goofy ringtones instead of music.
"People enjoy getting a quick laugh 5 to 10 times a day when their phone rings," Spiro says. "Or they love sharing with their friends funny stuff they found that is now on their phone."
What's hot
Most popular ringtones for July, as of last week, on www.myxer.com:
1. "We Be Steady Mobbin," by Lil Wayne, featuring Gucci Mane.
2. "You're a Jerk," by New Boyz.
3. "Best I Ever Had," by HypnoTiQ.
4. "Birthday Sex," by Jeremih.
5. "Day and Night," by Kid Cudi.
6. "F.L.Y.," by Swag Surfin.
7. "Turn My Swag On," by Soulja Boy.
8. "Computer Love," by Lil Kim featuring T-Pain.
9. "Death of Autotune," by Jay-Z.
10. "Every Girl-Wayne," by Miss Mama Queen.
Copyright 2017 The Lawrence Journal-World. All rights reserved. This material may not be published, broadcast, rewritten or redistributed. We strive to uphold our values for every story published.