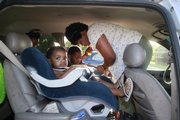 Planning for a car trip to Chicago this summer, Mary Mba got plenty of tools ready for the trip.
After all, she needed to entertain her 6-year-old daughter, 3-year-old son and 20-month-old son for nine hours — each way.
So in addition to clothes, the Lawrence resident packed audio books, songs, games, blankets, snacks and toys for the trip.
Usually on car trips, her youngest son goes to sleep, but if he gets cranky, she asks the two older children to play with him, and that usually keeps him quiet. If the children get bored, they have toys and books to entertain them. Otherwise, she strikes up an interesting conversation to keep their minds off the long road trip.
Yo Jackson, an associate professor of applied behavioral science at Kansas University, says preparation is key to a fun-filled trip with kids.
"Think about what entertains them at home," she says. "Take an inventory of the kinds of things they like to do, and try to do something similar during the trip."
If your children are budding artists, pack lots of coloring books and crayons; if they are the intellectual types, pack a jigsaw puzzle or their favorite books.
But just playing games or talking with your children is not enough. Children tend to get restless and antsy if they are confined in the car for too long.
"During a long car journey, it is extremely important to allow children to burn their extra energy in order to prevent them from becoming restless and irritated," says Lynn Marotz, an assistant professor of applied behavioral science at KU.
Some physical activities that Marotz recommends are playing with hula hoops or jump ropes, or just running around.
Marotz also says parents can pack a "surprise bag" with small gifts, such as a pack of gum, a book, and so on. Children could be allowed to pick a gift every half hour. That way, they will be entertained for awhile after receiving one gift and can anticipate the next.
For parents wanting to make the car trip an educational experience, Jim Hanni, vice president of AAA Kansas, has some suggestions.
You can give your children age-appropriate maps or atlases to learn about the route and track progress in the car. Car games, such as scavenger hunts where children look for a red car, an animal or a restaurant sign, also are good because they are educational.
But the easiest way to keep your children busy and yourself worry-free is to try and get them to sleep. Hanni said that families could choose to coordinate their driving time with the children's sleep schedules. If your children take naps, try heading out an hour before naptime. They can be entertained in the beginning with games or songs, and then sleep for the next few hours.
Parents should also make it a point to take plenty of food along. Children tend to be picky eaters, so picking up something to eat along the way may be difficult, Hanni says.
Copyright 2018 The Lawrence Journal-World. All rights reserved. This material may not be published, broadcast, rewritten or redistributed. We strive to uphold our values for every story published.