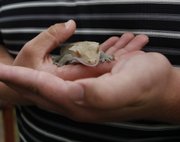 Heel. Stay. Sit. Sit. Sit. Good dog.
Just a week before the Douglas County Fair's annual 4-H pet and dog show, 17-year-old Chris Berg was going through some of the commands expected of a dog at the graduate novice level.
His 6-year-old Sheltie named Skye may not be ready for the Westminster dog show, but she's a pretty smart dog and very cute.
For example, Berg can be across the yard and call for her. Then, have her stop halfway and sit. Then, call for her to come again and sit. She also walks right beside him without a leash.
"It's hard to train for," Berg said.
At this point, he thinks they will earn a third-place ribbon at the dog show, which begins at 2 p.m. Saturday in Building 21 North at the Douglas County 4-H Fairgrounds, 2110 Harper St. Berg, a 10-year member of the Lone Star 4-H Club, is among 13 4-H'ers — twice as many as last year — who will be entering at least one dog.
He has entered Skye in the fair's dog show since she was a puppy and they have moved up to a more difficult level each year. She's even made it to the state competition level. But Berg thinks this year's graduate novice level will be challenging.
"We have to make almost an L-shape and during the process, we have to do sit without me telling her to sit. She has to automatically sit. And then she has to stay by my side the whole time without running away. You also have to be able speed up and slow down," he said, of some of the expectations.
The expectations are not as high for his other dog, Xena, who is a Keeshond mix. Berg has been showing her for three years and she is still at the novice level. She is friendly and doesn't like to play by the rules.
"It's going to be interesting because she doesn't like to sit automatically and then doing it off-leash — that will be hard. So, it will be interesting to see how she does," Berg said with a laugh.
Difficult project
Unlike most 4-H projects, pets are a yearlong commitment. Berg not only has to feed them, but work with them at least 10 minutes each day so they don't forget the commands they learn. Berg said treats are only used when they are puppies. They are quickly weaned from treats because they can't be used in the show ring.
And when it comes to show time, there's a lot of grooming involved. They need to be bathed, brushed and dried. Their teeth also need to be cleaned.
"The whole bathing process takes a few hours just from start to once they are all brushed out," Berg said.
Skye is not a big fan of the long process, but she deals with it. She also puts up with hats and outfits for the costume contest at the end of the dog show. It's where the owner and the dog dress up.
"It's the way to have fun at the show," Berg said.
He and his dog have previously dressed up as a hospitalized patient and doctor. Berg had crutches and his arm in a sling while Skye wore a lab coat and had a stethoscope.
They have been a robber and cop where Berg wore a striped shirt with numbers on the back and a mask. He was handcuffed to Skye who wore a police hat and gun holster.
One year, he tried to enter both dogs. They were wrestlers and wore singlets and headgear and he was the coach. But it proved difficult to handle two dogs and Berg has opted not to try it again.
Dogs vs. cats
Berg said he prefers showing dogs to cats because he can "do more things with them."
When it comes to showing his black-and-white domestic shorthair cat, named Chloe, in the pet show, there's not much training or grooming involved. Berg just holds Chloe while the judge looks her over, and he tries to impress the judge with interesting facts and knowledge about Chloe.
"You try to answer all of the questions before they start asking you," Berg said. "That generally helps in the scoring process," Berg said.
Berg believes the 5-year-old cat earns brownie points with the judge when he tells the stories of how Chloe has used two of her nine lives. She has been hit by a vehicle. Another time, Berg found her in a barn and she looked like she had been attacked by raccoons or something.
"Now, she is strictly an indoor cat," Berg said of the cat that he has had since she was a kitten.
Unique pets
Berg isn't just a sucker for the fluffy animals as pets. He also has geckos and is considering entering one in the pet show. In the past, he has shown chameleons.
"They didn't live that long after the fair," he said. "They were stressed out so much that they just died a couple of days later," Berg said.
He also took Emperor scorpions one year.
"That was pretty interesting because I didn't really want to handle them with the judge. So, we just kind of kept them in the box," Berg said.
County 4-H agent Mark Flory said the pet show offers spectators an opportunity to learn more about unique pets. There are 29 individuals who will be entering at least one pet in the show. It begins at 9 a.m. Saturday in Building 21 South.
"Before I watched the pet show, I didn't know that lizards have a personality," he said with a chuckle. "That's a really neat opportunity to see a lot of cool animals and kids are very knowledgeable and can tell some pretty neat stories about them, too," Flory said.
Copyright 2018 The Lawrence Journal-World. All rights reserved. This material may not be published, broadcast, rewritten or redistributed. We strive to uphold our values for every story published.