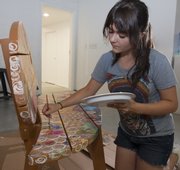 Macio Palacio paints away at a wooden plank splashed with oranges and blues. He's drawn a black-and-white Volkswagen Beetle on there, complete with Geek Squad logo. The project isn't finished, but he expects to make his deadline.
Palacio, Free State High School junior, is working on one of 20 new benches for Van Go Mobile Arts' Benchmark Project, which will be unveiled at 5:30 p.m. Friday at Van Go, 715 N.J.
Jim Lewis, JAMS program director, says youths involved in the program have to go through an extensive approval process. First, they meet with clients to obtain useful information that would help decorate their bench. Then they come up with a few ideas on a small scale, which must be approved by the art director. They then paint a full-size version on paper, which the client must approve. Then the painting starts.
Palacio says he went through six or seven sketches before settling on his current design, complete with Geek Squad Beetle, speakers, laptop, iPod and an Xbox. Art is his passion, and he hopes to eventually go into an art-related field like architecture or graphic design.
"I'm going to try to keep going till I'm not able to do it anymore," Palacio says.
Art runs in his family, with his mother and grandmother painting, sculpting and drawing. He says he started scribbling and doodling as soon as he could hold a pencil, and he'll probably visit the bench in its new home in Best Buy.
Kayleigh Anderson, Lawrence High School sophomore, is working on the second bench of her Van Go career. Hers is a giant painter's palette for the Art and Design Building on Kansas University's campus. She says they were vague about what they wanted, so she decided to go abstract. Paint splatters, circles, squares and other shapes adorn the bench in all different colors.
"I have a bit more freedom here," she says.
To donate to Van Go or commission a bench, visit www.van-go.org.
Copyright 2018 The Lawrence Journal-World. All rights reserved. This material may not be published, broadcast, rewritten or redistributed. We strive to uphold our values for every story published.