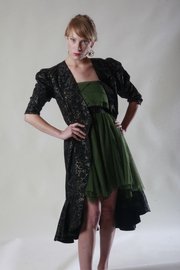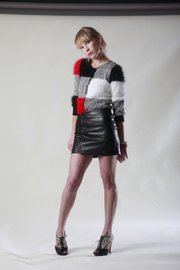 Couture fashion for Fall-Winter 2009-10 premiered earlier this month in Paris. This summer's shows were diverse, ranging from established designers such as Christian Lacroix and Givenchy to new, young talent, like Alexis Mabille.
Read below for my own reviews of a few designers. (These haute couture members can undoubtedly be considered ... grandfathered in):
Chanel
Karl Lagerfeld produced impeccable two-piece dress-suits, all paired with lace tights, gloves and, sometimes, even lace bowler hats. Talk about a suit for your lifetime wardrobe! Blouses and dresses had the perfect amount of detail — each one can be imagined in a particular, appropriate environment. Cocktail party? Day at the office? Stroll downtown? Dinner at the Eiffel Tower? Lagerfeld has just the outfit for you!
Lagerfeld's beadwork, more clustered at one end and dispersed at the other, gave off a unique color-shifting effect. Most of his pieces had a train attached; either a long, chiffon piece trailed behind each model or there was a fixed-fabric attachment.
My favorite: a gray, roll-neck shift dress with pockets at the sides
Get the look: Pair a party dress (preferably one in a finer fabric, such as satin or chiffon) with a long, caftan-like overcoat to achieve an attention-grabbing look.
Armani Prive:
Armani is time and time again my favorite couture designer. I've previously swooned over his Spring 2008 Haute Couture collection (reminiscent of art-deco details and structures); however, Armani's 2009 collection was also impressive. Most of his pieces were a shimmery monochrome and softly structured. Exquisite details, beadwork, cutouts and lace did couture proud. And Armani made one thing crystal clear: This fall, it's all about the pants, ladies.
Other important details? Suit jackets with structured shoulders, lace T-shirts peeking out of skirt-suits and a distinct nod to sportswear, like dressy hoodies incorporated into eveningwear and polos with embroidery. Armani also incorporated dressy jumpsuits that were a combination of nude, mesh and sparkle.
My absolute favorite? Armani's opening pantsuit: fitted, pleated pants and a matching blazer with oversize front-buttons, pagoda shoulders and a beautiful bow at the collarbone.
Get the look: Find the perfect pantsuit in a riche material. Look for strong shoulders, pleated pant and one-of-a-kind details that remind you of Armani's perfect bows and buttons.
Jean Paul Gaultier:
Gaultier's fall couture collection surely has something for everyone. It was an eclectic mix of design concepts, from flapper dresses and fur coats to ... powder blue alligator-skin overalls?
At any rate, Gaultier did stress some great take-home points: velvet tuxedo coats, above-the-knee boots, leather overcoats and oversized furs. Luxury fabrics were mixed to emphasize texture. Flowy, ethereal, floor-length dresses were absolute elegant drama. Gaultier's color palette was mostly browns and blacks with a splash of color, like a pale grayish purple.
My favorite? Super-short gold dress, shimmery ivory tights, oversized rust-colored fur and a bob with mermaid-waves.
Get the look: Tone down the bulky leather by incorporating such fabric in your skirt or boots. Get a mixed-texture look by incorporating color-blocks composed of diverse colors and fabrics. With an outfit as wild as this, try to unify your look with shoes or accessories that otherwise might seem too matchy-matchy.
Copyright 2018 The Lawrence Journal-World. All rights reserved. This material may not be published, broadcast, rewritten or redistributed. We strive to uphold our values for every story published.