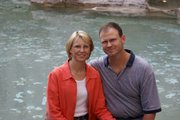 Kansas City, Mo., police said Monday that they were working diligently to determine who shot and killed a Lawrence woman Friday night as she was driving home from a theater performance.
Deanna "Dea" Lieber, 45, was killed by random gunfire around 11:30 p.m. as she drove her 13-year-old daughter and her mother-in-law home from a showing of "Anything Goes" at Starlight Theatre in Kansas City. Lieber was driving her gold Dodge Durango on U.S. Highway 71 near 59th Street when she was hit by a stray round of bullets, which police said may have been fired from several blocks away.
"The way she lived, everything she did wasn't for her own glory, it was for the glory of God and that's how she wants to be remembered," Deanna Lieber's husband, Joe Lieber, said Monday.
Joe Lieber said his daughter was riding in the front passenger seat and obviously is still recovering from the ordeal. He said the 13-year-old has glass and metal fragments in her eye.
"She is very strong in her faith and what she told me is God told her to lay her head back, and the instant she laid her head back is when the bullet came, otherwise it would've hit her, too," Lieber said. "And that's why she knows that this is God's plan."
Lieber said his family had season tickets to Starlight Theater and he had never been concerned in the past when his wife would travel to Kansas City for the performances. He was at home Friday night, when his mother, who was riding in the back seat of the vehicle, called him with the news.
Deanna Lieber was the Kansas Department of Education's general counsel and had spent years as a law clerk for Kansas Supreme Court justices.
On Monday, Sgt. Stacy Graves, Kansas City police spokeswoman, said homicide detectives had received no leads in the case that they were willing to discuss.
"We don't have any suspects," she said. "That's a really sad case, and I know we're going to work that to the best of our ability."
Joe Lieber said while he'd like to see his wife's case solved, that is not his top priority.
"I certainly hope that he's caught, or she's caught, or whoever it is, but I have more important concerns right now," Joe Lieber said. "My daughter and my son are my concern. I'm concentrating on my family."
Kansas City police said a 38-year-old woman was killed by random gunfire early Sunday morning as she was sitting at a bus stop near 34th Street and Troost Avenue, which is about 3.5 miles from where Lieber was shot. A man in the same area was also shot by stray bullets and received serious injuries.
On Monday, police arrested a 16-year-old boy in connection with that shooting but officers were still seeking information about the shooting that killed Lieber.
Anyone with information is asked to call the police department's TIPS Hotline at 816-474-TIPS (8477).
Funeral services for Lieber are scheduled for 1 p.m. Wednesday at First Presbyterian Church in Lawrence. The family will greet friends from 6 p.m. to 8 p.m. Tuesday at Warren-McElwain Mortuary, 120 W. 13th St.
Copyright 2018 The Lawrence Journal-World. All rights reserved. This material may not be published, broadcast, rewritten or redistributed. We strive to uphold our values for every story published.