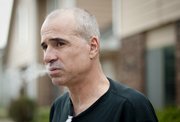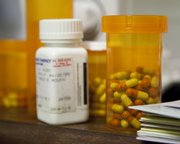 Want to help?
If you would like to contribute to the Lawrence Ministerial Emergency Fund, checks can be made out to and sent to the First Presbyterian Church, 2415 Clinton Parkway, Lawrence, KS, 66047, with the notation "Downtown Clergy."
The place Paul Lampert had was great.
On Massachusetts Street. Two floors. Close to downtown. It was tough to make the steep $1,200 payment, but doable with roommates and his disability check.
But then the roommates moved out.
And rent couldn't be paid.
"Not everything works out, you know. So at the end, we were the only ones still there, and so we had to move because we couldn't afford it," Lampert says, meaning him and his wife. "And we were in between places with the college graduation and everything in the summer, so places weren't going to be due until July ... and so May was a really bad month for us."
Finding a place to stay last second is hard enough, finding the money to plunk down another deposit and first month's rent is even harder. What is there to do?
The people behind a fledgling fund in Lawrence are hoping it can be a place to which people in Lampert's situation can turn. The Lawrence Ministerial Emergency Fund, which has been up and running since September, has helped 42 families, including Lampert's, and counting.
"We tried to pick something that seemed to be underfunded. And that is helping people, after they have been evicted, being able to reestablish whatever they need to get back into some form of transitional or permanent housing," says the Rev. Kent Winters-Hazelton, pastor at First Presbyterian Church. "There are many programs that can help you if you get your eviction notice, to get your utilities turned back on or help pay rent or mortgage or whatever. But once you've been removed from your place of residence, there are a lot of less funds available."
One of the most recent recipients of help is Lampert. With the help of Mathew Faulk, a homeless outreach specialist at Bert Nash, Lampert, who is on disability and cannot work, has been able to use the fund twice in 2009 for rent or a deposit. That includes helping him get into his current home, an townhome he shares with his wife and roommates.
"We found this, they helped us," Lampert says of the townhome in which he now live. "I mean it was just ... financially, it put us in a burden because we didn't have that kind of money."
Now it's the ministerial fund that needs the help.
In June, the fund dwindled to $2,000. Now, it's back up to about $3,500, but that won't last long. Often offering the maximum amount of $200 to applicants, the fund can help less than 20 more families before running out. And the need continues to grow.
"If the money dried up, I guess the good part is that would be a lot of people housed. The bad part about that, though, or what I guess would happen then, is that it would show a large need," says Scott Mulryan, a homeless outreach worker. "I don't think we've quite seen the worst of it yet in Lawrence."
The need
The fund was created to be a place for those in need to find help getting back into a housing situation and was spawn from a partnership between the Downtown Pastors Association and the city's Homeless Outreach Team. Several churches, including First Christian, First United Methodist, Central United Methodist, Peace Mennonite, Plymouth Congregational, St. John the Evangelist Catholic, Trinity Lutheran, Good Shepherd Lutheran, West Side Presbyterian, First Presbyterian and Ninth Street Missionary Baptist, have pledged to the fund.
Since the fund began helping families in need this fall, it has helped everyone from a mother and a daughter turned out to a family of five who couldn't afford a rental deposit after a parent's job loss, fund experts say.
Faulk says that though the maximum one can get from the fund per application — $200 — may not sound like much, it can mean the difference between a home and homelessness.
"Oftentimes when someone is on no budget or a very limited budget, even a few dollars helps. And, in respect to that fund, it has counterbalanced the traditional funding sources that we normally work with in such a way that it alleviates a lot of burden on them and it puts us in position to really provide more services to more people," Faulk says. "I've had several, several people for whom that was the fund that made the difference because had I not had that fund available, the other funds would not have been able to provide enough funding for their needs. And, specifically, the initial cost of getting into an apartment, or getting housed."
The cost
The issue of that cost was something local clergy were aware of, but not something any of them could have tackled alone. Most every church has its own general emergency fund to help those in need, but the pastors knew that they could do more if they joined forces, says the Rev. Gary Teske, pastor of Trinity Lutheran Church.
"Over the last year or so, there's been more interest in trying to create a more ... centralized fund that could respond to the needs that are identified especially by the homeless outreach team workers," Teske says. "And so, looking for new ways of raising funds, one is to raise additional funds and the other is to consolidate to some degree. So you don't have some of the people who are helping someone that they are helping a client trying to find some emergency help for a need and they have to call every church in town. And so hopefully they can make it their first call, this emergency fund."
But that's only if it survives.
Mulryan is one who hopes it can, if anything because it inspires hope in those who need it most.
"Usually when people come to me, they kind of have got a loss of hope and are usually, at this point, frightened about what's going to happen," Mulryan says. "And, so, I usually sit down with them and I definitely use the Ministerial Fund as kind of that hope at the end of the tunnel, kind of that light that there (are) resources available and ... organizations out there that helps them get back into housing."
Copyright 2018 The Lawrence Journal-World. All rights reserved. This material may not be published, broadcast, rewritten or redistributed. We strive to uphold our values for every story published.