Photo Gallery
Shoppers out in force at Downtown Sidewalk Sale
Photo Gallery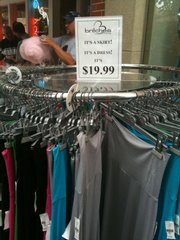 Bargains found at the Sidewalk Sale
-->
The local color and eccentricities that are Lawrence were out in full force at the Downtown Lawrence Sidewalk Sale.
On a stroll down Massachusetts Street Thursday, shoppers, as expected, ran into interesting characters — people in penguin outfits — and unique sale items — hugs for a dollar.
In the end, the poor economy and a weather scare couldn't slow down one of Lawrence's most anticipated yearly events.
Go early, stay late
So how early is too early to start your day at the Downtown Lawrence Sidewalk Sale?
Shopping was in full swing by 6 a.m., and merchants and shoppers reported early risers on the streets as early as 5 a.m.
That's when Lawrence residents Michelle Stockwell and Leah Towle started their shopping adventure. The early start was worth it, they said.
"We got the deals," Stockwell said, carrying a shopping bag full of dollar jewelry from the Antique Mall, 830 Mass.
But the early start didn't mean they'd end their shopping early. Stockwell and Towle said they planned to take a break for rehearsal of a play they're performing in, then return until about 10 p.m.
Every dollar helps
While the Downtown Lawrence Sidewalk Sale is good business for downtown stores, it's also an opportunity for area nonprofits to get the word out and raise money.
On the corner of Ninth and Massachusetts, representatives from the Casa4CASA playhouse were offering shoppers a chance to win the annual playhouse, which was stationed in front of Cielito Lindo, 815 N.H.
"Every dollar helps," said Douglas County CASA board member Mary Boatright.
A downtown filled with shoppers with open wallets also equaled a bump for panhandlers.
Thomas Ludwig said he doesn't panhandle very often downtown and prefers finding day labor when it's available. But, there wasn't any work Thursday, so he spent part of the day downtown holding a sign: "Laid off. Can you help?"
Ludwig said he made a few dollars. Not a lot, but more than usual, he said.
Make a buck with hugs
Opportunities were plentiful for downtown businesses, as well as local entrepreneurs.
Some played instruments — or sold balloon animals or snow cones.
High school students Dakota Summers and Jake Frydman sold hugs for a dollar.
In less than 30 minutes, the body-squeezing duo sold 15 of what they describe as "Deluxe hugs."
So why would anyone pay a dollar for a hug?
"You can't get these hugs anywhere else on the planet," claims Summers.
The special features of their deluxe hugs included a back pat, rocking back and forth, and even a lift-off if requested.
Lawrence resident Linda Sturgeon paid for one of the hugs, and she wasn't disappointed.
"I haven't had a hug like that in years. A lot better than my husband's," she said.
A steal?
Many sidewalk shoppers can recognize a good deal when they see one on most everyday items. There's a rough estimate of how much, say, a T-shirt costs: $15, maybe?
But for some of the more unusual items at Thursday's sale, it's a little more difficult.
For instance, how much should a plaster rooster cost? Or a Santa Claus salt and pepper shaker?
A few of those more difficult-to-price items can be found at the Winfield House, 835 Mass. Store employee Linda Campbell was making a hard sell for the value of softball-size decorative balls.
"For adding some color," said Campbell of the purple and blue pieces. They're a conversation piece, she said.
Over at Blackbird Trading Post, 8 W. Ninth St., store owner Cynthia Trask explained the value in some unusual items, such as a black and white, cow-pattern painted, headless mannequin. A steal for $10, Trask said.
She said the mannequin might make a good art project. She also makes a good pitch for a set of skull-headed maracas.
"When was the last time you saw skull maracas?" she said.
What budget?
Sticking to a budget can be tough at the sale.
Maria Carvajal set her budget at $50 when she started her shopping trip at 7 a.m. At 11 a.m., she was re-evaluating the amount she was going to spend.
"I'm getting close," Carvajal said of her $50 limit. With hours left to shop, she said going over the budget was likely.
Experienced sidewalk shopper Paul Boone, however, said he didn't need a budget. He's been coming to the sidewalk sale in Lawrence for 15 years, and he sticks to the dollar items, such as the $1 long underwear shirt he bought at Sunflower Outdoor and Bike Shop, 802 Mass.
Second-year sidewalk sale shopper Jade O'Connell could've used some of Boone's dollar-purchase wisdom. O'Connell planned on spending $60, but spent more than $100 at Urban Outfitters, 1013 Mass. Her daily amount was around $150, she said.
O'Connell planned to continue shopping, even though she knew better.
"I should've gone back to my car," she said.
Copyright 2018 The Lawrence Journal-World. All rights reserved. This material may not be published, broadcast, rewritten or redistributed. We strive to uphold our values for every story published.