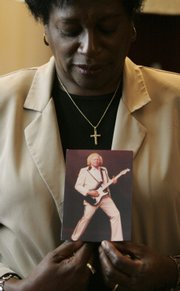 Columbia, S.C. — A South Carolina judge Tuesday revoked the license of a funeral home where a worker cut the legs off a 6-foot-7 body so it would fit in a casket.
Administrative Law Judge Deborah Durden gave her decision immediately after hearing the appeal of Cave Funeral Home and owner Michael Cave.
The ruling may be the end the family business founded in Allendale 49 years ago. Cave's lawyer said his client would wait for the written ruling before deciding whether to appeal and the family is also considering selling the funeral home.
The state Funeral Board ordered the home shut down last month after Cave admitted his father, Charles Cave, used an electric saw to sever James Hines' legs at the calf because he wouldn't fit in the casket. The elder Cave does not have the license needed to embalm a body, but helped with tasks around the home like dressing and cleaning bodies, his son told the board.
Michael Cave said he should be allowed to keep his license because he wasn't in the room when the legs were cut and had no idea what his father was about do. He also said there were no other blemishes on his 26-year record in the funeral business.
"It was a terrible act," said Cave's attorney, Rep. Jim Harrison, R-Columbia. "But these aren't terrible people."
But Cave never told Hines' family what had happened. He said he didn't want to compound their grief, later admitting that was a mistake. The body was placed in the casket with only the head and torso on view for the funeral service. Family members said they were so distraught they didn't notice anything was wrong.
Rumors about Hines' suspected truncation started spreading through the town of town of 3,700 people about 75 miles southwest of Columbia not long after his death from skin cancer in October 2004. But confirmation came four years later when a fired employee, who was the only other worker in the room with Charles Cave when Hines' legs were cut, told the family what happened.
The state funeral board exhumed Hines' body and found the severed legs still in the casket. A criminal investigation also has been launched. A spokeswoman for prosecutor Duffie Stone didn't immediately return a message Tuesday.
Hines, 60, was an albino black man who had several modest hits in the 1970s as a soul and funk guitarist with J. Hines and the Boys. He became a preacher later in life.
Copyright 2018 The Associated Press. All rights reserved. This material may not be published, broadcast, rewritten or redistributed. We strive to uphold our values for every story published.